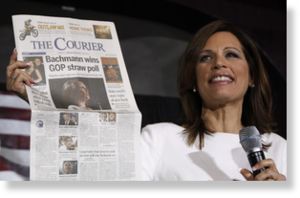 According to an article published by the
Daily Beast
Sunday, GOP presidential candidates Michele Bachmann and Rick Perry have "deep ties" to a "fringe fundamentalist movement" known as Dominionism.
Dominionism is defined as the tendency of politically active conservative Christians to try to control government. Writer Michelle Goldberg simplifies the definition down to: "a movement ... which says Christians should rule the world."
Goldberg is the author of
Kingdom Coming: The Rise of Christian Nationalism
and she makes her case for applying the controversial term to both candidates by listing the ways Dominionism has supposedly influenced them.
But many have pointed out that her examples show so-called Dominionist groups attaching to the candidates, not the other way around.
As part of her argument, Goldberg cites Bachmann's close relationship with Truth in Action ministries, a group whose former leader George Grant once explained: "Christians have an obligation, a mandate, a commission, a holy responsibility to reclaim the land for Jesus Christ - to have dominion in civil structures."
Goldberg says Bachmann once appeared in a Truth in Action video in which she said the government has no right to collect taxes in excess of 10 percent, the amount that believers are called to tithe to the church. Goldberg doesn't say whether Bachmann used the 10 percent figure with any relation to the church.
Goldberg also argues that Rick Perry is associated with Dominionism, citing a recent
Texas Observer
cover story
on the Texas governor that examines his relationship with the New Apostolic Reformation. The New Apostolic Reformation is a group that is fascinated "with infiltrating politics and government," according to Observer journalist Forrest Wilder.
But Wilder also writes that New Apostolic Reformation sees Perry as its vehicle to claim the "mountain" of government, not the other way around.
Ken Shepherd, managing editor of
Newsbusters
, a site devoted to "exposing liberal media bias",
wrote
that the
Daily Beast
"went a few more steps off the deep end yesterday" by publishing the article.