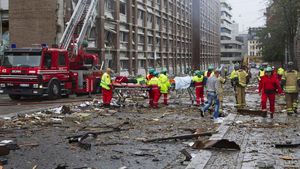 Breivik's rantings handed to journo, cops, says 'Noria' crew
A hacking group claims to have broken into two email accounts maintained by Norwegian mass murderer Anders Behring Breivik, the far-right extremist who killed more than 70 people in attacks that shocked the world last month.
The hacking crew, who call themselves Noria, reportedly
hacked
into Breivik's email accounts after earlier taking over a Twitter profile maintained by the domestic terrorist.
The group is said to have handed over information from the hacked email accounts to a freelance journalist Kjetil Stormark, with the request that he pass on the material to police investigating the mass killings.
Information from the email accounts may well be helpful for the police in forming a better picture of who Breivik was talking to and the content of these discussions. But any fruits of what started out as an illegal hacking act would be inadmissible in court. It would have been much better from this aspect if police had obtained a court order and gained access to the accounts, thus preserving the chain of evidence. ISPs could have been asked to comply with court orders to facilitate this process. It is not even beyond the bounds of possibility that Breivik himself might have supplied his login credentials.
Breivik detonated a car bomb he placed near government buildings in Oslo, causing eight deaths, before travelling to a youth camp organised by the ruling Labour Party on the island of Utøya and killing 69 in a shooting rampage. He confessed to these crimes but denies criminal responsibility.
The terrorist distributed an anti-Islamic tract decrypting "cultural Marxism", entitled 2083 -
A European Declaration of Independence
, electronically on the day of the dual attacks.
More commentary on the information security aspects of the story can be found in a blog post by Sophos
here
.