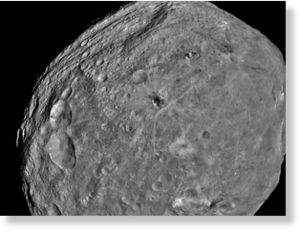 NASA's
Dawn
spacecraft is beginning the first of it four intensive research orbits, with its initial run around the Vesta asteroid scheduled to begin on 11 August.
The spacecraft will soon begin circling the giant asteroid at an altitude of roughly 1,700 miles, providing key data and in-depth analysis of the Vesta giant.
Vesta is the brightest object viewable from Earth in the asteroid cluster surrounding Earth, Mars, Venus and Mercury. Previously, little was known about the giant though it is believed to be roughly 530 kilometres large in diameter. The
Dawn
has already taken an image of Vesta showing its its rocky outer surface for the first time in human history.
The images have all been taken while the
Dawn
is still roughly 5,200 km from the asteroid. NASA has since confirmed that the current images are primarily for navigation rather than overtly scientific purposes.
The report from NASA
clarified that the
Dawn
has already been caught by the Vesta's gravitational pull and is now only 2,900 km away from the asteroid.
To get this far the
Dawn
has already had to travel 2.8 billion km. Launching all the way back in September 2007 it has taken the
Dawn
four-years to get to the first stage of its mission.
Once the
Dawn
gets close, as well as photographing Vesta, the spacecraft will also be able to enact more in-depth investigations utilizing its gamma ray and neutron detector and infrared mapping spectrometer. The devices will allow the
Dawn
to measure the nature and energy of the subatomic particles emitted from and measure the mineralogy of the asteroid's surface.
Marc Rayman,
Dawn's
chief engineer and mission manager at NASA's Jet Propulsion Laboratory in Pasadena California commented on the Dawn's most recent pictures: "Now that we are in orbit around one of the last unexplored worlds in the inner solar system, we can see that it's a unique and fascinating place."
With Jim Green, planetary division director at NASA Headquarters in Washington adding: "The new observations of Vesta are an inspirational reminder of the wonders unveiled through ongoing exploration of our solar system."
The news follows NASA's recently announced new mission, that
hopes to have astronauts land on a near-Earth asteroid by the year 2025
.