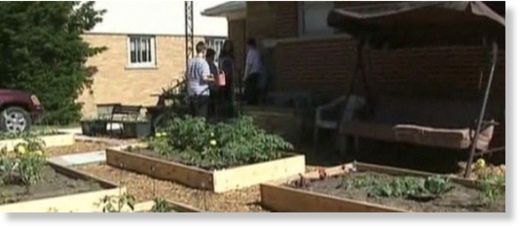 This isn't your typical, garden-variety crime.
After a warning, a ticket and now a misdemeanor charge, an Oak Park, Mich., woman faces up to 93 days in jail for refusing to remove a vegetable crop from her front lawn.
Julie Bass says that she thought it would be "really cool" for the neighbors and kids
to see a frontyard garden
, but some community members don't appreciate the vegetable plot.
"I think it's sad that the City of Oak Park that's already strapped for cash is paying a lot of money to have a prosecutor bothering us," she told
My Fox Detroit
.
Bass has since started a blog --
Oak Park Hates Veggies
-- to chronicle her battle with the authorities.
"We now find ourselves in a storm of controversy worthy of some high level mischief. Seriously?" she wrote in an entry. "It's a GARDEN. It's not a high crime or treason or murder. IT'S VEGETABLES. And yes, we did throw in a few flowers."
There's also
a Facebook page with 980 fans
and a thread on the
Internet message board Reddit
with nearly 400 comments supporting her lawn farming.
According to
a local ABC affiliate
, city code states that "all unpaved portions of the site shall be planted with grass or ground cover or shrubbery or other suitable live plant material."
Posing the question: Are cabbages, peppers, tomatos and cucumbers "suitable" for the front lawn?
"If you look at the definition of what suitable is in Webster's dictionary, it will say common. So, if you look around and you look in any other community, what's common to a front yard is a nice, grass yard with beautiful trees and bushes and flowers," Oak Park City Planner Kevin Rulkowski told MyFoxDetroit.
Nevertheless, Bass has refused to comply with the city's requests to remove the plants or place them in her backyard.
"It's definitely live. It's definitely plant. It's definitely material. We think it's suitable," Bass said.
A pre-trial is scheduled for July 26.