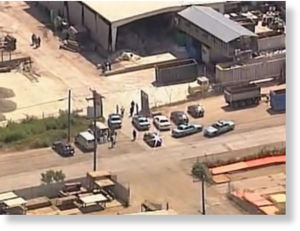 Workers at a recycling plant in Seattle were horrified to discover the dismembered torso of a man rolling by on a conveyor belt, launching the city's fifth homicide investigation of the year.
The butchered body was mixed in with materials from a construction site, police said.
The case was being investigated as a murder, and cops said the victim did not work at the plant, which is operated by local waste hauler CleanScapes.
"We don't believe that this person was killed here on site, but rather that they were transported here," police Sgt. Sean Whitcomb told the
Seattle Post-Intelligencer
.
Police arrived at the scene in the city's industrial SoDo neighborhood at around 10:50 a.m. on morning after workers discovered the grisly remains rolled up in a soiled rug.
The victim was an adult male, though cops did not release any other details about his identity.
There have been only four confirmed murders in Seattle this year, which puts the city on pace for the lowest annual rate since the 1940s, the
Post-Intelligencer
said.
Last month, a 25-year-old woman in North Seattle was strangled by her boyfriend, who was later arrested.