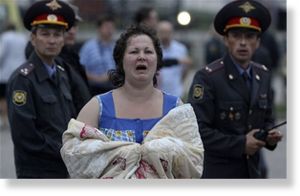 The chances of finding more survivors after a tourist boat sank in Russia's Volga river were "very small", according to the government, raising fears that more than 100 people have died.
The double decker boat carrying more than 180 people sunk "within minutes" during a heavy storm on Russia's Volga River on Sunday killing at least two people and leaving more than a hundred other passengers missing.
In an accident that will raise fresh questions about the safety of Russia's ageing Soviet-era trains, planes and boats, eyewitnesses said the tour boat sank about two miles from the nearest river bank in bad weather.
"It was not that choppy but it was raining hard and there was a storm," Yelena Kaleyeva, a resident of a nearby village, told local media.
Other witnesses said the vessel, called
Bulgaria
, sank within about two minutes, that visibility in the area was low, and that passengers dashed to grab hold of anything that floated to stay alive.
Not all of them managed to get a life jacket or to make it to one of the few emergency boats however.
The regional emergency ministry of Tatarstan said two men managed to swim to shore, while a passing riverboat picked up another 83 people and the lifeless body of a woman. The body of another woman was found later, authorities said without giving details. All aboard were believed to be Russian.
"The chances of finding more survivors are very small," a spokesman for the Emergency Situations Ministry said.
Survivors were taken to Kazan, the regional capital of the internal Russian republic of Tatarstan, where the accident took place.
At least five other passengers were reported to have been saved, while one woman was confirmed dead, and two people were said to be in hospital.
Information was highly contradictory however and it was not clear whether the roughly 100 people the authorities said were still unaccounted for were likely to be dead or alive.
The stricken ship was carrying at least 125 tourists, including many women and children, on a pleasure trip along the River Volga, an excursion that has been popular for decades. Adult passengers had paid the equivalent of about £40 for the trip.
Although the ship had recently been given a facelift, it was built in 1955 in then Czechoslovakia and passengers often complained that it was ramshackle and its crew overly fond of alcohol.
It was also reported to be carrying many more passengers than officially allowed. Russian investigators said they had opened a criminal investigation and that a violation of safety rules by those in charge of the vessel was possible as was some kind of technical failure.