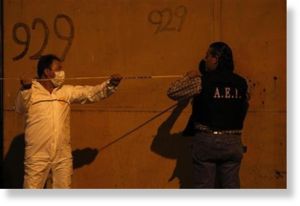 Gunmen burst into a bar in the Mexican city of Monterrey and shot dead at least 20 people Friday, the latest massacre in the city battered by drug-gang violence,
El Universal
newspaper reported.
At least five people were injured, the paper reported, citing local police.
The gunmen fired AK-47 assault rifles throughout the bar in downtown Monterrey,
Milenio
newspaper reported.
Several other Mexican media outlets, including
Reforma
newspaper, reported the same tally of dead and injured.
Over the last four years, industrial and relatively prosperous Monterrey has gone from being a model for developing economies to a symbol of Mexico's drug war chaos as rival gangs fight one another in the city's streets.