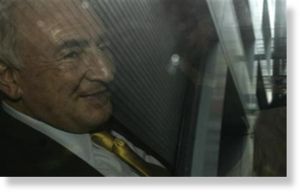 Regardless of the outcome of the sexual assault charges against former IMF chief Dominique Strauss-Kahn, the case could discourage victims from coming forward, women's rights advocates say.
The high-profile case shows why sexual assault is one of the most underreported crimes in the United States: the accuser has been called a prostitute in print, intimate details of her past exposed to the world, and her credibility questioned by prosecutors trying to make a case against Strauss-Kahn.
"Unquestionably, it has had a chilling effect on the public consciousness and women in coming forward," said Sonia Ossorio, executive director of the National Organization for Women in New York City.
"It reinforces what we already know, that the majority of women do not report rapes because the spotlight will be on their personal history and their credibility will be questioned," she said.
Forty-five percent of sexual assaults in the United States go unreported, according to the Bureau of Justice Statistics 2009 National Crime Victimization Study -- down from 60 percent in 2007.
A New York judge freed Strauss-Kahn from house arrest last week after prosecutors revealed that his accuser, a 32-year-old hotel maid from Guinea, had lied about her background, undermining her credibility as a witness.
Women's rights advocates worry that the woman's assertion that she was assaulted has been lost in the politics and legal maneuverings of the case.
"They have insidiously succeeded in shifting the focus from the reported act of sexual violence perpetrated by Strauss-Kahn to Hawa's character," said Equality Now, an international women's rights group, using a pseudonym for the accuser.
If she did fabricate the story, it would be unfortunate because "it would perpetuate the stereotype that victims lie about their assaults," said Rita Garza of victim's services agency Safe Horizon.
"The reality is that very few people lie about sexual assault," Garza said. "It is a low one to three percent."
Media Coverage
Media coverage of the woman has turned especially intense since details of the accusers past misstatements have come out -- that she lied about being gang-raped in her application for U.S. asylum and changed details of her story about what happened after her encounter with Strauss-Kahn.
The New York Post
reported she worked as a prostitute before and after the Strauss-Kahn encounter on May 14, including while she was living under the protection of the District Attorney's office.
That prompted a libel suit filed by the woman's lawyers.
"It's the irresponsible journalism of the year," activist Gloria Steinem told Reuters. "Certainly, the example set by the
New York Post
would be enough to discourage anyone from ever coming forward."
The Post
said it stands by its reporting.
The coverage has also prompted debate over the media portrayal of minority and immigrant women and whether it could further discourage them from reporting sexual assaults.
"Immigrant black women are the least powerful in a society," Ossorio said. "They are the least likely to be taken seriously."
The accuser's admission that she fabricated a story to improve her chances of getting U.S. asylum could expose her to criminal prosecution and possibly deportation, experts said.
"It is already difficult for a victim of a crime to come forward, especially with the added fear of deportation," said Michele Vigeant of Safe Horizon. "It becomes an added barrier for those seeking service and seeking justice intervention."
Women are often vulnerable after sex crimes and need to feel confident someone will believe their stories, Vigeant said.
"Even if she has had credibility problems outside of that day, a strong prosecutor would have said we are ready to stand up for her because it was a crime," said Diane Rosenfeld, a professor at Harvard Law School. "Way too many prosecutors back out of rape cases."