Ex-con later killed himself after chase, taking hostages in Grand Rapids
When Rodrick Shonte Dantzler raised a gun to his head after going on a deadly shooting spree, the bullet ended what those close to him described as a troubled life in which he frequently resorted to violence and often made threats against women and relatives.
Police say the 34-year-old ex-con targeted two former girlfriends in Thursday's rampage, fatally shooting both of them and five members of their families, including his own 12-year-old daughter. He also shot and wounded two other people - one of them another ex-girlfriend - while leading officers on a chase through Michigan's second-largest city.
"He went out hunting these people down. It was very much a purposeful act." Police Chief Kevin Belk said Friday, describing Dantzler as mentally unstable but saying he knew of no clinical diagnosis or motive for the killings.
Dantzler's rap sheet goes back to 1992, when he was charged as a juvenile with breaking and entering and car theft. That was followed over the next eight years by charges of trespassing, domestic violence, destruction of property, larceny and assault.
Dantzler's mother, who said her son set fire to her house when he was 18, was among four women who sought protective orders against him in the mid- to late 1990s.
"Rodrick has a very explosive temper and will act violently without thinking," Victoria Dantzler wrote in the petition filed in Kent County Circuit Court. "I've lived in fear of him hunting me down or worse, forcing me to hurt him in order to protect myself. I just wish for him to leave me alone."
In May 2000, he was accused of firing a gun at people in a car, then firing four more shots when they attempted to read the license plate of the vehicle he was driving. He was sentenced that year to three to 10 years in prison for assault and paroled three years later.
One woman filed a paternity suit against Dantzler in 1995 and at least three sought child support from him. In each case, judges issued warrants for his arrest for failing to pay.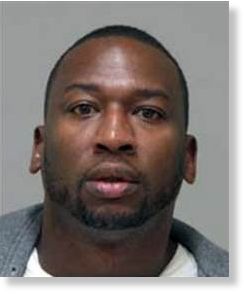 In a 1997 petition, Stacy Carter said she tried to leave Dantzler while she was five months' pregnant because of repeated abuse. Dantzler tracked her down at a friend's house and warned that she could not leave him "with the baby and myself still alive," Carter wrote.
Dantzler, she said, once pushed her into a bathroom mirror and slammed her on the floor. He grabbed her jaw and told her he would "kill it before he brings another baby into this world."
That same year, Angela Merrill filed a petition saying Dantzler threatened her and "slapped me in the face and then swore at me" over a tape he claimed she had.
Despite his record, neighbors on the tree-shaded street where he lived for the past couple of years described him as friendly and mild-mannered and said they were unaware of his criminal past.
"He seemed normal," said Jannelle Windemuller, who lived across the street and a few houses down from Dantzler's modest, lime-green house. He often frolicked in the grassy front yard with daughter Kamrie, who was killed in the rampage, and his two pit bulls. He would wave when driving or walking by, she said.
Nichole Martin, another neighbor, was afraid of Dantzler's dogs, which he often allowed to run in the yard without leashes. Still, she said, she "thought he was such a nice guy."
Dantzler was armed with a .40-caliber handgun and plenty of ammunition, the police chief said.
Investigators did not know where he obtained the gun. As a convicted felon, Dantzler would have been forbidden from legally owning the weapon.
Authorities identified the dead as: daughter Kamrie Deann Heeren-Dantzler; 29-year-old Jennifer Marie Heeren, an ex-girlfriend and Kamrie's mother; 52-year-old Rebecca Lynn Heeren, Jennifer Heeren's mother; 51-year-old Thomas Heeren, her father; 23-year-old Kimberlee Ann Emkens, a woman Dantzler had previously dated; 27-year-old Amanda Renee Emkens, Kimberlee Emkens' sister; and 10-year-old Marissa Lynn Emkens, Amanda Emkens' daughter.
The shooting spree transfixed Grand Rapids, a southwestern Michigan city with a population of 188,000.
Hundreds of people gathered in the city for a candlelight vigil Friday in memory of the seven victims. As the sun set, each name was read aloud before and after a moment of silence.
The tragedy had begun unfolding Thursday afternoon when police responding to 911 calls found four gunshot victims in one house and three in another.
Officers caught up with Dantzler after the ex-girlfriend he wounded called police and said he was following her in his car.
According to NBC affiliate WOOD-TV, Dantzler shot the driver of a pickup truck, Robert Poore, during a traffic jam. The bullet ricocheted off Poore's nose thanks to a titanium plate implanted after a childhood cancer treatment, and he suffered only minor injuries
Poore's cousin Harold Taylor, who was a passenger in the car, told WOOD-TV that Dantzler "pinned us against the truck," then "raised his gun and started shooting."
"I tried to get up to see the license and as soon as I did that I seen his eyes while he was shooting, non-stop," Taylor said.
After a lengthy police chase through city streets and down an interstate highway, the gunman crashed his vehicle while driving down an embankment.
He then barged into a house and took several strangers hostage and periodically exchanged gunfire with police.
Another hostage who had hidden in a closet emerged later when Dantzler became agitated because another man in the house was hard of hearing and the two had trouble communicating.
"She placed herself in more harm by exposing herself," Belk said, describing the freed hostages as doing "amazingly well."
During the five-hour standoff, Dantzler alternately threatened to shoot the hostages and pleaded with police to take him out. He ended the drama by shooting himself.
"It makes no sense to try to rationalize it, what the motives were," Belk said. "You just cannot come up with a logical reason why someone takes seven peoples' lives."
Source: The Associated Press / NBC News