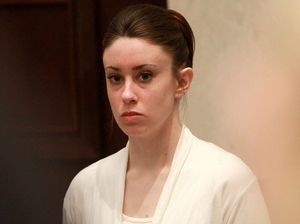 Disappointment over the not guilty in Casey Anthony murder trial has spurred an online campaign in honor of the Florida mother's dead 2-year-old.
A petition urging lawmakers to create a law in memory little Caylee Anthony has gone viral - garnering more than 250,000 signatures in less than 36 hours.
The campaign, launched by an Oklahoma woman on
Change.org
, asks lawmakers to craft "
Caylee's Law,
" which would make it a felony for a parent to fail to report a missing child to law enforcement.
Change.org, the site which launches numerous petitions a day in an effort to create social change, said on its blog that the petition is already the most popular of all time on the website.
The petition's founder, Michelle Crowder, told CNN she was outraged that Casey Anthony was found not guilty in the murder of her young daughter. Without any personal connection to the case, she said she was just looking for a way to help.
"I have not spoken to any law enforcement officers or lawmakers. I do not know any lawmakers or government officials; I just felt something had to be done," she told the network. "I would hope that law enforcement agencies and lawmakers would agree that this needs to be a federal law."
In a trial that captured worldwide attention, Anthony was found guilty of four counts of lying to investigators after she fed police - and her parents - a bogus story that her daughter had been taken by a nanny. She also waited a month after Caylee's disappearance before contacting police.
Crowder's campaign hasn't just captured the support of cable news watchers.
Florida state Rep. Bill Hager told
Florida Today
that he was drafting legislation similar to the petition.
"Placing a law on the books requiring parents and guardians to report missing children who are in significant danger in a timely manner will ensure that parents are held accountable for their actions," he said in a statement.
"It will also assure that we put justice on the side of those among us who are most vulnerable. And finally, it will put an end to the kind of irresponsible and outrageous behavior we observed with Caylee's mother."
Crowder told CNN that she was amazed with the massive and quick response to her petition.
"I'm just completely and totally amazed. I didn't expect my Change.org petition calling for Caylee's Law to take off like this," she said.
"Legislators in Florida and Oklahoma have already pledged to introduce Caylee's Law. I hope that other states, and Congress, will also take up Caylee's Law. We can't afford to have another case like Caylee Anthony's in the courts."