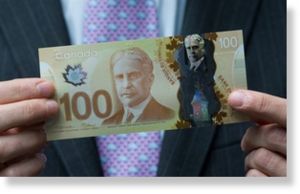 Get ready to have a little more plastic in your wallet.
Starting in November, new polymer bank notes will start to replace paper-cotton bills that wear and tear more easily.
The first bills to go plastic will be the $100 notes. The $50 notes will follow next March. The rest of the plastic money will be in circulation by the end of 2013.
The polymer bank notes are more durable than paper money. The Bank of Canada expects the new bills to last 2.5 times longer than the paper ones.
They're also harder to fake than paper money. Some of the security features built into the new notes include raised ink, hidden numbers and metallic images in see-through windows.
The bills feel smooth and slightly waxy. They don't crumple easily, but they do crease when you try, and they don't seem to tear in half.
The new $100s look busier than the paper bills. There are now two portraits of prime minister Robert Borden - a large one on the face of the bill and a smaller, metallic one in the clear band running through the note, above an image of Parliament Hill's Peace Tower.
On the other side of the bill, there's an image of a researcher at a microscope, a strand of DNA and an electrocardiogram. There's also a bottle of insulin next to the words "medical innovation."
The $50 has an image of CCGS Amundsen - a research icebreaker - and a map of the North. The designs of the $20, $10 and $5 bills will be unveiled later. The colours of the new bills have not changed.
The Conservative government announced in its 2010 budget that Canada would be switching to synthetic bills.
Bank of Canada Governor Mark Carney said the notes are necessary to fight counterfeiting. The number of counterfeit bills in circulation peaked in 2004, but has been steadily declining since.
"The polymer notes we're introducing today are unique," Carney said. "There's simply no other currency like them."
Finance Minister Jim Flaherty and RCMP Commissioner William Elliott joined Carney for the announcement in Ottawa.
Senior Bank of Canada officials say they're confident the new notes won't melt in the dryer or harden in the winter.