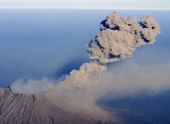 And another volcano has erupted in Japan.
Minami-dake crater at Sakurajima, a volcano on Japan's southern island of Kyushu, erupted Tuesday, following volcanic explosions at Mt. Kirishima in the same region.
The volcano spewed plumes of smoke and ash up to 2,000 meters into the air.
Local authorities temporarily banned citizens from driving near the area due to the sheer amount of ash raining down from the volcano.
Japan's Meteorological Agency says it will maintain a level 3 alert for Sakurajima that bans access to the mountain.
The agency notes, however, that it cannot confirm that this eruption was linked to a series of recent eruptions on the island.