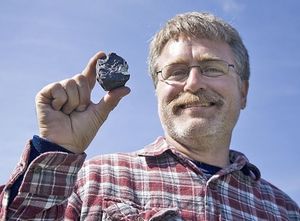 When Karl Aston saw a fireball in the sky, his first thought was of chasing it.
The St. Louis research chemist, whose in-laws live in Quincy, hunts for and collects meteorites in his spare time. After a meteorite streaked across the night sky on April 14 as a brilliant fireball visible to the naked eye across the Upper Midwest, Aston traveled to its landing place in rural southwest Wisconsin and found one of the largest discovered chunks of the rock.
Scientists are thrilled by discoveries like Aston's, pointing to the modern rarity of visible meteorites and the clues about space and Earth their remnants provide.
"This is really top-notch science," said Gregg Maryniak, director of the St. Louis Science Center's James S. McDonnell Planetarium, which will display Aston's meteorite chunk later this summer.
Aston took up meteorite hunting and collecting three years ago. He has since networked with many other meteorite hunters around the country, developing "a lot of camaraderie and friendly competition" with them.
In the days after the April meteorite sighting, an estimated 20 to 30 hunters gathered in Wisconsin, hoping to pinpoint the meteorite's landing place and hunt for chunks of the rock.
After four days of tracking the rock's path through radar, talking with landowners and walking through rural fields for an estimated 100 hours, Aston came across the first of five meteorite chunks the group would ultimately find.
"I just saw it sitting on top of a grass pasture, 20 feet away," Aston said. "From 10 feet away, I knew it was a meteorite."
Aston's meteorite chunk weighs about 160 grams, heavy with minerals such as iron that sparkle in the sunlight under the rock's burnt-black exterior. He said the largest chunk that has been found weighs about 300 grams, although softball- and basketball-sized chunks of the car-sized rock still might be out there.
"Most of the meteorites will never be found," Aston said, estimating that hundreds or even thousands of meteorite chunks fell to Earth, though fewer than 100 have been found. Most already have been plowed over by the landowners, he said.
Aston's interest in meteorites is "more than a hobby, I would submit to you," said the St. Louis Science Center's Maryniak. "Understanding these cosmic collisions and impacts is extremely important."
Maryniak pointed to meteorites as the cause of the moon's formation and the ancient source of much of Earth's water.
"People who pursue these finds are really doing the community a service" by using them to educate the public about science, he said.
Aston continues that service in his spare time, inspecting rocks found by landowners who want to have identified as either meteorites or, as Aston jokes, "meteor-wrongs." He frequently works with the planetary sciences department at Washington University in St. Louis.
The St. Louis Science Center will display Aston's meteorite chunk in its planetarium throughout July and August before it moves to a permanent home at a museum in Wisconsin.