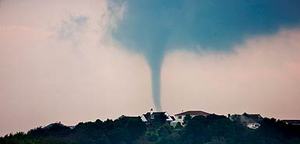 ©Unknown
A waterspout was photographed off the South Devon coast as a storm swept inland at the same time, bringing high winds and a downpour.
Alison Heather, 21, a student, photographed the twister from her home in Livermead, Torquay. She said: "It was moving across the bay and you could actually see it was drawing the sea spray up a couple of hundred feet into the air."
Dave Perry, from Torquay, who photographed the waterspout off Torre Abbey Sands, said: "First of all we thought it was a cloud but then we saw it was actually sucking up the water. I haven't seen anything like it before in Torbay." Pleasure-boat skippers reported seeing the waterspout two miles (3km) east of Berry Head, near Brixham. One said: "It was a long, thin formation coming out of the sky and when it was near the surface water was sucked up to meet it.
"It was a bit spooky, and on land in Brixham it suddenly went cold and dark for ten minutes.
It was very unusual weather for this part of the world."
Brixham Coastguards said that they received several reports of the waterspout. A spokesman said: "We had a call from a man standing on the shore at Goodrington who saw a funnel cloud moving towards Berry Head."