As Hurricane Ike revs up again over the Gulf of Mexico, residents of coastal Texas, especially Houston and Galveston, are preparing for the arrival of the monstrous storm, which could be the most devastating that the Lone Star State has seen Hurricane Alicia came ashore in 1983, causing nearly $6 billion in damage and 21 fatalities.
Ike is huge. Hurricane-force winds extend out 120 miles (195 kilometers) from the storm's center, and tropical storm-force winds reach out 275 miles (445 km), both measurements exceeding what's seen with many storms. Ike could reach major hurricane status as a Category 3 before it makes landfall late Friday or early Saturday morning somewhere along the Texas coast.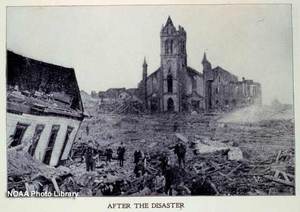 ©NOAA
The unnamed Category 4 hurricane that slammed into Galveston, Texas Sept. 8, 1900 remains the deadliest ever to hit the United States, having killed at least 8,000 people (estimates vary) and leveling virtually the entire town.
And right now it looks like that somewhere will be the Houston/Galveston area.
Will the sea wall hold?
Galveston sits on a barrier island between the Gulf and Galveston Bay. The city was devastated by a major hurricane
in 1900
, still the deadliest in U.S. history. Galveston officials have already ordered a mandatory evacuation of the island as they keep a wary eye on Ike's progress.
Galveston sits right at sea level and so is vulnerable to the mound of water that a hurricane can push in front of it.
"Our biggest concern for this storm is the tidal surge," said Mary Jo Naschke, the public information officer for the City of Galveston.
As a hurricane travels over the ocean, its strong winds push against the water's surface, causing it to pile up higher than the sea's ordinary level. As the hurricane makes landfall, the water is pushed onshore and can quickly wash many miles inland, destroying homes and businesses. This so-called storm surge, or tidal surge, accounts for the majority of deaths and damage caused by a hurricane.
Naschke said yesterday they are already seeing a rise in water levels, with the tide coming further up along the beaches and water bubbling up through storm sewers.
Storm surge can build for hours as a hurricane approaches, but the bulk of it usually comes as a sudden rush of water that can quickly submerge low-lying coastal areas, washing away cars and trees and flooding buildings.
The most vulnerable part of Galveston Island is the western end, which isn't protected by the 18-foot sea wall that the city erected after the catastrophe in 1900, Naschke told LiveScience. A tidal surge of just 5 feet above normal will inundate the roads in that part of town, she said.
Ike's storm surge could reach 20 feet, which could cause water to spill over the walls. But Naschke isn't worried about a Katrina-like flooding disaster.
"We feel confident that the sea wall will hold," she said.
Naschke said mainland coastal areas, particularly those near bayous behind Galveston, are more at risk for flooding because they have no sea walls. Most of these areas have also been under evacuation orders, she said.
Winds and rain
Houston's downtown area, meanwhile, sits about 50 feet above sea level. The biggest concerns for this, the fourth most populous city in the United States, is high winds, along with flooding from rain if Ike decides to hang around for awhile.
Major flooding occurred in Houston in 2001 when Tropical Storm Allison dumped more than 30 inches on parts of the city.
"It caused a lot of areas to be overrun with water," said Joe Laud, a spokesman for Houston's Office of Emergency Management.
Wind could prove damaging to high-rise buildings. Hurricane Alicia, in 1983, was the last hurricane to make a direct hit on the city. It shattered many downtown windows by picking up debris with its ferocious winds.
High-rises are particularly vulnerable to a hurricane's winds because they are so high up; a study conducted when Hurricane Georges hit Mississippi in 1998 showed that the winds 1,000 feet (305 meters) above the surface were 23 mph (37 kph) faster than those at ground level, putting the tops of skyscrapers more at risk, said Matt Moreland, a forecaster with the National Weather Service's Houston/Galveston office.
Laud said that changes had been made to window materials to make them more resistant to storms but that in a major storm, the winds could still find some piece of debris and inflict damage.
Disaster planners in other cities know that buildings under construction, along with their scaffoldings and any construction materials lying around, are particularly vulnerable.
While most of Houston's high-rises are office buildings, some contain apartments, and everyone has been asked to evacuate high-rise buildings. Apart from one low-lying area to the southeast of the city, no other evacuations have been called.
"We're just on standby, getting ready" for the storm, Laud said.
Back in Galveston, Naschke said the town was already starting to feel the touch of the storm. "The winds have picked up considerably," she said late yesterday.
But residents seemed to be heeding the evacuation calls, she said: "The town's pretty dead."