As Hurricane Ike bore down on the Houston area on Friday morning, the National Weather Service issued a stern warning to people living in small houses on Galveston Island that they faced "certain death" from flooding if they remained in their homes.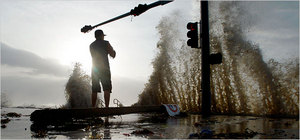 ©Carlos Barria/Reuters
A resident took pictures next to the ocean as Hurricane Ike approached the coast of Galveston, Tex., on Friday.
Forecasters said the wall of water being pushed onshore by the mammoth storm could cause floods of 15 to 22 feet above sea level, enough to cover many houses on the island, where a hurricane killed more than 8,000 people in 1900.
"Persons not heeding evacuation orders in single-family one- or two-story homes will face certain death," the National Weather Service said in a local bulletin. "Many residences of average construction directly on the coast will be destroyed."
The dire warning came as residents of Houston and Galveston rushed to board up their houses and move inland and Hurricane Ike moved closer to the two cities. By Friday morning, the unusually wide storm was more than 500 miles across and was rated Category 2, with 105 mile per hour winds at its center, churning across the Gulf of Mexico about 230 miles southeast of Galveston, according to The National Hurricane Center.
A mandatory evacuation was ordered for Galveston, and hurricane warnings were issued for a 400-mile stretch of coastline that stretched from south of Corpus Christi to Morgan City, La.
Thousands fled the island earlier in the day in private cars or on government-chartered buses, but a few diehards insisted they would stay in their homes. One was Denise Scurry, a 46-year-old pool hall employee who was sitting on a milk crate Thursday afternoon in downtown Galveston near her two-story home, reading "Thugs and the Women Who Love Them" and sipping brandy.
"It ain't going to be nothing but wind and rain," she said. "Everybody's all excited about nothing."
Larry Drosnes, who lives a half-mile from the beach, drove his black Ford Ranger to an elevated parking garage for safekeeping, and then returned to his house.
"The people that left are prudent, and those that are staying are reckless," said Mr. Drosnes, 61, who has ridden out nearly every storm that has hit the island since 1948. "It's pretty obvious which category I am in."
The authorities ordered hundreds of thousands of people to evacuate low-lying areas from the Louisiana border to Corpus Christi. Traffic built up on highways leading from the coast; some gas stations ran out of fuel.
Forecasters predicted that Hurricane Ike would make landfall late Friday or before dawn on Saturday between the central Texas coast and southwestern Louisiana, with Galveston at the center of that track.
"I cannot overemphasize the danger that is facing us," Gov. Rick Perry of Texas said at a news conference in Austin.
In the storm's path lies one of the nation's largest concentration of oil refineries, the Johnson Space Center, the resorts on Galveston Island and Houston's downtown of skyscrapers. More than four million people live in Houston and its suburbs.
The federal government moved swiftly to send rescue teams, generators, water and food into Texas and Louisiana, said Michael Chertoff, the secretary of homeland security. Forty teams with helicopters and high-water trucks from the Coast Guard, the National Guard and the Defense Department were positioned to rescue people, Mr. Chertoff said.
Officials from the Federal Emergency Management Agency have taken up positions in local emergency management offices, said the agency's director, R. David Paulison.
Mr. Chertoff acknowledged that some people had become blasé about hurricane warnings, especially after Hurricane Gustav earlier this month turned out to be less damaging than predicted. He urged Texans not to let their guard down.
"This is not a storm to gamble with," Mr. Chertoff said. "It's large. It's powerful."
In Houston, the authorities hoped to avoid the traffic gridlock of three years ago when Hurricane Rita threatened, urging people who did not live in coastal floodplains to remain home.
"We are still saying: Please shelter in place, or to use the Texas expression, hunker down," said Judge Ed Emmett, the chief administrator for Harris County, which includes Houston.
Over 1,000 feet off the Galveston coastline, Amanda Stephens-Collins was the last person remaining at the Flagship Hotel Over The Water, which sits on a peer extending into the Gulf. A night manager, Ms. Stephens-Collins was taking a break on Friday morning after checking that every room in the hotel had been emptied. "There was one guy last night who didn't want to leave, and he asked how exactly I intended to get him gone," she said. Ms. Stephens-Collins said she would call the police, and the man promptly left.
Greg Taveno was also not keen on leaving. Speaking in front of a nine-foot surf board stowed in his truck, Mr. Taveno said he wasn't too worried about the 10 foot waves crashing in.
"If I can't find a way to get out of the water, I'm not getting in," he said, just before a gigantic wave washed over his truck and hit the highway behind him. "I suppose," he said, "that is one way I could get out. Just get tossed."
Reporting was contributed by Thayer Evans, Michael M. Grynbaum, Rachel Mosteller and Ian Urbina.