Hosuton - Hurricane Ike churned through the Gulf of Mexico's warm waters on Wednesday on a track that will likely skirt the heart of the U.S. offshore oilpatch before it slams into the Texas coast on Saturday.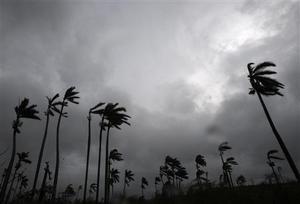 ©REUTERS/Claudia Daut
Palm trees are swayed by outer bands of Hurricane Ike in Pinar del Rio, Cuba, September 9, 2008.
Ike, a Category 1 storm with 85 mile-per-hour (140 kph) winds, has left a trail of destruction across the Caribbean after toppling decrepit buildings in Cuba's capital and ripping the communist-run island from end to end.
Forecasters said Ike would likely regain power in the Gulf of Mexico's warm waters and become a major storm again, revving up to a Category 3 on the five-step hurricane intensity scale with a minimum of 115 mph (178 kph) winds.
But latest projections pointed Ike toward the middle of the Texas coast, skirting to the west of the main region for offshore production in the gulf, which provides a quarter of U.S. oil and 15 percent of its natural gas.
U.S. crude oil prices fell more than $3 on Tuesday as traders discounted the possibility of storm disruptions, and were up $1 to over $104 a barrel on Wednesday after the OPEC producer group announced a surprise output cut.
New Orleans, still scarred by Katrina, which killed 1,500 people and caused $80 billion in damage on the U.S. Gulf Coast in 2005, appeared to be out of danger.
Ike's current track would see it hit the Texas coast just north of Corpus Christi, a major Gulf Coast oil refining hub. But the storm's path is uncertain and officials in the port city of Galveston - just south of Houston - urged people living in flood-prone areas to leave.
At 8 a.m. EDT, the hurricane center said in its latest advisory Ike was 145 miles north of the western tip of Cuba and about 430 miles southeast of the mouth of the Mississippi River. It was churning northwest at 8 mph (13 kph), and was expected to veer west-northwest later on Wednesday.
Rainfall of up to 3 inches was possible in the lower Florida keys, which could also face storm surges, large waves and isolated tornadoes and waterspouts on Wednesday, the center said. Southwest Florida was expected to see up to four 4 inches of rain.
CUBA TAKES DIRECT HIT
In Cuba, big waves and storm surges were expected to subside on Wednesday, but heavy rains on the western end of the island could produce flash floods, the center said.
Ike has already caused widespread damage in Cuba.
Few official figures have emerged, but state-run media showed a panorama of destruction across the island, still reeling from the more powerful Hurricane Gustav 10 days ago.
Ike struck eastern Cuba on Sunday with 120 mph (195 kph) winds and torrential rains that destroyed buildings, wiped out the electricity grid, toppled trees, leveled crops including sugar cane fields, and turned rivers into roaring torrents.
After up to 15 inches of rain fell on the island the downpour continued on Wednesday even as Ike moved away, causing widespread flooding and growing alarm among officials.
A total of 2.6 million people were evacuated before Ike, or about 22 percent of the country's 11 million population, but officials said four people died in the eastern provinces.
Before Cuba, Ike hit Britain's Turks and Caicos Islands and the southern Bahamas as a ferocious Category 4 hurricane.
Floods triggered by its torrential rains were blamed for at least 71 deaths in Haiti, where Tropical Storm Hanna killed 500 people last week.