Tracking the projected path of Hurricane Ike - Hurricane Ike moved toward western Cuba and the Gulf of Mexico oil fields early on Tuesday.
Ike weakened on Monday as it bore down on Cuba, where it blew off roofs, toppled trees and flattened sugar cane fields like a giant lawn mower on a path toward the U.S. oil hub in the Gulf of Mexico.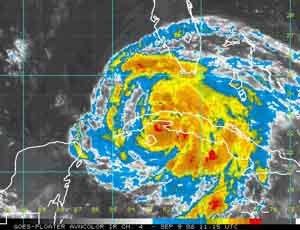 ©Unknown
Heavy rains ripped a wide swath of destruction through the eastern side of the island, killing at least four people.
Ike has weakened to a Category 1 storm with 80 miles per hour (130 km per hour) after roaring ashore in northeastern Cuba late on Sunday near Punta Lucrecia.
The storm was moving west-northwest at 2 a.m. EDT at 13 mph (20 kph) and about 95 miles southeast of Havana.
After Cuba, Ike's projected path is to enter the Gulf of Mexico and turn northwest, where 4,000 platforms produce 25 percent of U.S. oil and 15 percent of its natural gas, and point toward Louisiana and Texas.
Its likeliest destination is east Texas, but at least one computer model takes it ashore just west of New Orleans, near where Gustav hit last week.
Oil companies that began returning workers to offshore platforms that were evacuated before Gustav made its way through find themselves now making preparations for another possible strike by the weekend.
All interests along the Gulf Coast should be monitoring the movement of this potentially devastating storm.
Track Ike at
NOAA
or
TWC
.