HOUSTON - Tropical Storm Edouard plowed into a wildlife refuge on the upper Texas coast early on Tuesday, bringing driving rains and peak winds near 65 mph (100 kmh) but leaving key energy installations mostly unscathed.
Edouard, the fifth tropical storm of the 2008 Atlantic hurricane season, was just shy of hurricane strength when it came ashore at the McFaddin National Wildlife Refuge, halfway between High Island and Sabine Pass, forecasters said.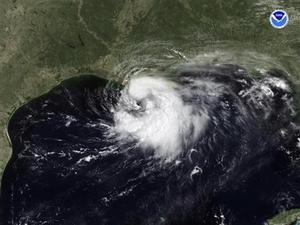 ©REUTERS/NOAA/Handout.
NOAA satellite image shows Tropical Storm Edouard in the Gulf of Mexico August 4, 2008.
At 11 a.m. EDT, the storm was about 40 miles (65 km) west of Port Arthur, Texas, and about 45 miles miles (70 km) north-northeast of Galveston, the U.S. National Hurricane Center said.
Edouard had weakened slightly and was expected to lose intensity as it moved across central Texas, the Miami-based forecasters said. No deaths or injuries were reported.
The storm came ashore at the McFaddin refuge -- the biggest freshwater marsh in Texas and a stop-over point for migrating birds like snow geese.
U.S. crude oil futures hit a three-month low of $118 a barrel on Tuesday, the lowest price since May 5, as traders discounted the possibility of widespread disruptions from the storm.
A storm surge of 2 to 4 feet was expected for coastal areas between Grand Isle, Louisiana, and Sargent, Texas, the Miami-based center said. The storm's peak sustained winds fell just short of hurricane speeds of 74-mph (119-kph).
FLOODING FEARS
Flooding was the primary concern. The storm could cause rain accumulation up to 5 inches in coastal regions of Louisiana and up to 10 inches in some parts of southeastern Texas, forecasters said.
Texas Gov. Rick Perry on Monday declared 17 counties disaster areas and mobilized about 1,200 National Guard troops. In Louisiana, Gov. Bobby Jindal declared a statewide emergency.
Isolated tornadoes were possible.
Edouard packed considerably less punch than Hurricane Dolly did when it hit South Texas on July 23 with 95 mph (150 kph) winds, dousing the area with tremendous downpours and leaving 100,000 people without power.
The 2008 storm season is far from over. Noted Colorado State University hurricane researchers on Tuesday raised their forecast to call for 17 tropical storms to form, of which nine would strengthen into hurricanes.
The team, formed by forecasting pioneer William Gray, in June predicted the six-month season that began on June 1 would produce 15 storms with eight becoming hurricanes.
Edouard, the second named storm to threaten oil operations in the Gulf of Mexico this year, shut down a huge offshore oil port, closed the Houston Ship Channel and prompted several offshore operators including Chevron Corp and Shell Oil to evacuate staff from their platforms. But energy companies reported little production slowdown.
The Gulf of Mexico supplies about a quarter of the nation's crude oil and 15 percent of its natural gas, while refiners along the coast produce about a quarter of domestic gasoline.
The Louisiana Offshore Oil Port, the only deep-water U.S. oil port and a major conduit for the country's crude oil imports, was set to begin unloading tankers later on Tuesday after closing due to bad weather on Monday.
A series of powerful hurricanes in 2004 and 2005, including Hurricane Katrina, toppled oil rigs and severed pipelines in the gulf.
The six-month hurricane season, which began on June 1, has already seen two of this year's storms strengthen into hurricanes. Last month was the third most active July for storms since records began in 1851.