HOUSTON - Tropical Storm Edouard moved across the northern Gulf of Mexico on Monday, threatening to come ashore on the Texas-Louisiana coast at near-hurricane strength.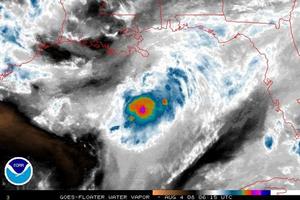 ©REUTERS/NOAA/Handout
Tropical Storm Edouard formed near a major oil and gas producing area of the northern Gulf of Mexico August 3, 2008.
Edouard, the fifth tropical storm of the 2008 Atlantic hurricane season, had maximum sustained winds of 50 mph (85 kph), the U.S. National Hurricane Center said in its 7 a.m. report.
The storm, which formed near a major oil- and gas-producing area of the northern Gulf of Mexico on Sunday, was about 80 miles south-southwest of Grand Isle, Louisiana, and 285 miles east-southeast of Galveston, Texas.
It was moving west at about 8 mph (13 kmh) and forecasters said it could bring as much as 6 inches of rain.
The Hurricane Center said Edouard was expected to gain strength and could be near the 74-mph (119-kph) threshold for hurricane status when it neared land by Tuesday morning.
A tropical storm warning was in effect from the mouth of the Mississippi River in Louisiana to San Luis Pass, south of Galveston.
Much of U.S. offshore oil production was in the likely path of the storm, which could also threaten Gulf Coast refineries. Oil companies have been working to strengthen platforms to withstand hurricane-force winds.
Oil and natural gas companies like Exxon Mobil Corp were preparing for possible evacuations of offshore production platforms. So far, the storm has not affected output from the offshore area, which supplies about a quarter of the nation's crude oil and 15 percent of its natural gas.
A series of powerful hurricanes in 2004 and 2005, including Hurricane Katrina, toppled oil rigs and severed pipelines in the Gulf.
The six-month hurricane season, which began on June 1, has already seen two of its four storms strengthen into hurricanes. Last month was the third most active month of July for storms since Atlantic hurricane season records began in 1851.
The early and unusually vigorous activity has given storm experts reason to believe that predictions for an above average season could turn out to be accurate.
Among the storms this year, Hurricane Dolly came ashore on the southern Texas coast on July 23, dousing the area with tremendous downpours but causing relatively little damage.
Hurricane Bertha grazed Bermuda and became the eighth longest-lived Atlantic storm on record before fading over the cool waters of the northern Atlantic, while Tropical Storm Cristobal brought heavy rain to the Carolinas.