A freak tornado killed three people and injured nine as it destroyed houses, overturned cars and ripped trees out of the ground in France last night.
The flash storm gutted up to 40 homes in just minutes as it battered Hautmont and three other small towns in the north of the country.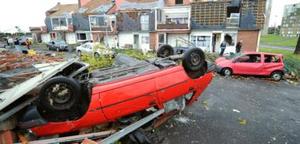 ©Unknown
Tornado damage in northern France
An elderly woman died when her house caved in at about 11pm, and rescue workers discovered the bodies of a local councillor and his wife amid the ruins of their home in the early hours.
"There was a deep roaring sound, like a bomb raid," said Erick Filleur, from Hautmont.
"My wife was watching television. Then suddenly my daughter cried out, my shutters exploded and part of our roof flew off."
Mustapha Rbide, another of the town's 16,000 residents, said: "The windows of my apartment suddenly blew up. I lay down on the ground, I just thought I was going to die."
Rescue workers with sniffer dogs were continuing to search for victims in the rubble this morning.
With rail traffic was interrupted and electric power lines torn down, the town was a scene of devastation.
Andree Fouquet, 61, another resident, said: "You work your whole life, and everything is gone in a few seconds."