Sometime in August 2011, a boxy
space probe called Dawn
will settle into orbit around one of the most underrated and overlooked objects in the solar system, a giant oblong asteroid named Vesta. After lingering for almost 10 months of study, Dawn will depart for Ceres, the biggest asteroid of all. Ceres is so large that it was recently promoted to the rank of dwarf planet, putting it
on a par with Pluto
and highlighting its status as a key planetary missing link.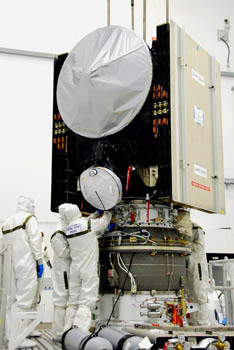 ©NASA
Dawn Probe
Vesta and Ceres are the big enchiladas of the
asteroid belt
, a loose collection of rubble left over from the earliest days of the solar system. They are interesting because they're like time capsules. "These two bodies are building blocks," says
Chris Russell
, the principal investigator for the Dawn mission. It was asteroids like these that "came together to make the rest of the planets. It might have taken millions of Vestas and Cereses to make Earth. We want to understand how the building blocks were different from one another and how they came together to build the planets. Vesta and Ceres represent an important stage in the history of the solar system."
Vesta and Ceres, along with the rest of the material in the aster­oid belt, would have coalesced into a planet too, were it not for Jupiter's powerfully disruptive gravity. Ceres is 585 miles wide and contains more than a quarter of all the mass in the asteroid belt. It was the first asteroid discovered, spotted by Italian astron­omer Giuseppe Piazzi in 1801. Vesta, the second-largest asteroid, was discovered six years later. For a few years, both were regarded as bona fide planets, but scientists soon discovered many more small bodies in similar orbits. In the mid-1800s these objects were reclassified as "asteroids" and largely dismissed as bit players. It has taken a century and a half to shift that view.