The biggest earthquake for nearly 25 years has been felt across large parts of England.
People from as far afield as London, Newcastle, Birmingham, Manchester, East Anglia and Yorkshire felt the tremor.
It struck just before 0100 GMT and lasted for nearly 10 seconds but it is unclear if it has caused any damage.
The British Geological Survey (BGS) said it believed the quake was of the magnitude of 5.3 and said the epicentre was in Market Rasen in Lincolnshire.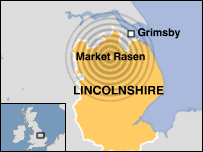 ©BBC
Dr Brian Baptie of the BGS said it was of a level to cause minor damage to buildings.
"An earthquake of this size, of magnitude five or thereabouts, will occur roughly every ten to 20 years in the UK," he said.
Wednesday morning's earthquake was the biggest recorded example since one with a magnitude of 5.4 struck north Wales in 1984.
Dr Baptie said: "The largest earthquake that we know about that has struck the UK was about 100km off the east coast of England on the Dogger Bank and it had a magnitude of 6.1.
"So we can get these kind of moderate to significant earthquakes of this size but they're relatively rare."
The West Midlands was hit by an earthquake in 2002 in the Dudley area that reached a magnitude of 5.0 and one measuring 4.3 hit Folkstone in Kent last year.
People from across England contacted the BBC to described how their homes shook during the tremor.
Jemma Harrison, 22, in Bury, Greater Manchester, said: "It was really bad. I was fast asleep and woke up and the room was shaking and there was a loud bang and alarms were going off."
Natasha Cavey, in Tipton in the West Midlands, said: "All my cupboard doors flew open and the whole house shook, it was unreal. I can't believe it."
David in Alrewas in Staffordshire said: "The birds were flying around like it was daylight.
"It was quite severe. I experienced the Dudley one and this was more severe. I went outside to see if the roof had collapsed. I could see the furniture in the room moving, it was like it was on a jelly mould."
David Somerset, 41, from Driffield near Beverley in East Yorkshire, said: "I have never felt one as strong as that one before. I was in my sitting room and the grandfather clock was rattling rather violently.
"It was very strong, I felt the whole room moving."