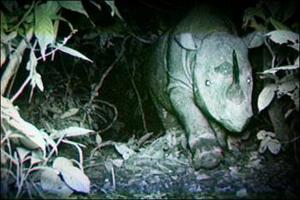 ©Unknown
A Sumatran rhinoceros has been photographed in peninsular Malaysia in the first sighting for more than a decade, raising hopes the animal can avoid extinction, a report said Sunday.
The
New Straits Times
said the image, captured by a camera trap, snapped just a small part of the rhino but experts declared the wrinkly and folded thigh was unmistakable.
Rhino footprints were last found in southern Johor state in 2001 but it was only in 1994, when a stray animal wandered out of a forest in northern Perak, that the animal was last sighted in the wild, according to the newspaper.
The report did not reveal where the rhino was snapped, but said the photo was taken in a wildlife corridor targeted by the Wildlife and National Parks Department which also spotted elephants, sun bears and the bison-like gaur.
"We're going back to areas where the rhinos were once recorded, looking for more signs and taking samples," said Siti Hawa Yatim, head of the department's biodiversity conservation division.
"We're also looking for doomed animals -- individuals alone in a vast area which cannot survive without companions."
World Wildlife Fund Malaysia announced earlier this year that it had captured video footage of the extremely rare Borneo sub-species of the critically-endangered Sumatran rhino.
The footage, taken in a forest in Malaysia's Sabah state on Borneo island, showed a rhino eating, peering through jungle foliage and sniffing the automatic video camera equipment used to shoot it.
The Sumatran rhinoceros is one of the world's most endangered species with only small numbers left on Indonesia's Sumatra island, Sabah and peninsular Malaysia, according to the WWF.
The Bornean sub-species is the rarest of all rhinos, distinguished from other Sumatran rhinos by its relatively small size, small teeth and distinctive shaped head.
WWF says scientists estimate there are only between 25 and 50 of the Bornean sub-species left.