A major earthquake hit northern Chile on Wednesday, and local television showed cars crushed under a section of collapsed building and terrified, confused residents in the streets.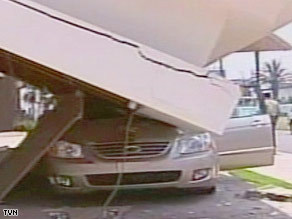 ©TVN Chile
A car lies crushed under part of a building Wednesday in Antofagasta.
Ricardo Lagos Weber, minister of government affairs, who spoke from Santiago an hour after the quake hit, said there were no immediate reports of injuries. But he said information from isolated areas in the far north had yet to come in.
The region's education director, Williams Butler, also told local media he had heard of no injuries.
The earthquake had a magnitude of 7.7 and was centered 105 miles (170 kilometers) north-northeast of the port city of Antofagasta, which also is the regional capital. The epicenter was at a depth of 37 miles (60 kilometers), according to the U.S. Geological Survey. The area is about 780 miles (1,245 kilometers) north of Santiago.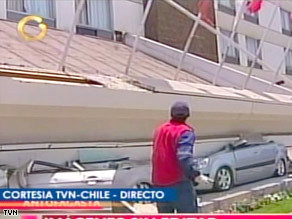 ©TVN Chile
Images from video from Antofagasta, Chile, on Wednesday shows earthquake damage.
The quake rattled buildings, and local media reports indicated electricity was out in some areas and telecommunication service was uneven.
In Copiapo, near Antofagasta, frightened residents ran in the streets, and mothers clung to their children, local television showed.
"It was horribly strong. It was very long and there was a lot of underground noise," Andrea Riveros, a spokeswoman for the Park Hotel in Calama, told The Associated Press. The hotel is about 60 miles east-southeast of the epicenter, the AP reported.
A tsunami warning was issued for the South Pacific coast after the quake hit at 12:40 p.m. (10:40 a.m. ET) but was canceled within an hour.
According to meteorologists, quakes that hit deep underground are preferred to shallow ones, because more of the energy is absorbed by the Earth.