Cyclone Sidr, currently in the Bay of Bengal and headed towards India or Bangladesh, recently became the 15th Category 4 or 5 storm of 2007, with sustained winds estimated at 115 knots or more than 130 miles per hour. Now, it's all a matter of where and when.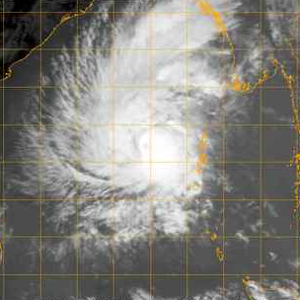 ©Naval Research Laboratory
The storm is expected to go through so-called "eyewall replacement cycles" -- weakening and then strengthening again -- over the next few days. Forty-eight hours out, it may start weakening before landfall. But let's face it: Irrespective of the particular meteorological details, we've got a powerful storm that is definitely going to hit somewhere where there could be very severe damage and/or loss of life. The big picture is this: Sidr is bad, bad news.
To emphasize that, consider this forecast track for the storm, courtesy of the Joint Typhoon Warning Center of the U.S. Navy. You will note that within the cone of uncertainty lies not only the highly populous Kolkata (formerly Calcutta), but the most vulnerable parts of low-lying Bangladesh: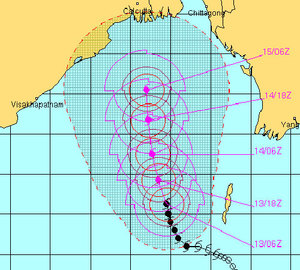 ©Joint Typhoon Warning Center
Meanwhile, the Atlantic Oceanographic and Meteorological Laboratory provides us this image of the Bay of Bengal's sea surface temperatures. There's more than enough heat in this area right now to sustain powerful hurricanes.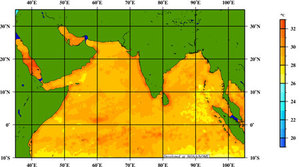 ©AOML
However, if we peer below the surface and seek to examine the total heat potential in this particular basin, there's a revealing finding. It appears that the further west Sidr travels in the direction of India, the less total ocean heat content the storm will find. If it bears east, though, more towards Bangladesh, then the storm might have more ocean energy to draw upon: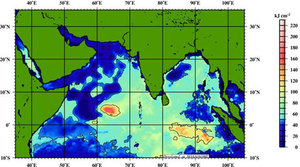 ©AOML
Now we watch and wait ... and, in the meantime, we can also chide our U.S.-centric media. I just checked CNN.com, and despite its devastating potential, see no mention yet of Cyclone Sidr.