At least 28 people have been killed in Vietnam by Typhoon Peipah, which continues to wreak havoc on already flooded areas of central Vietnam, a disaster official said on Tuesday.
Seven provinces are affected by the latest flooding, the fifth since August, with 61,000 houses underwater and hundreds of thousands of people evacuated. Water levels in rivers across the region continue to rise to record levels.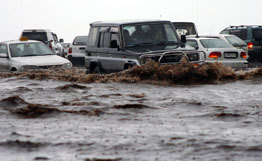 ©Unknown
A combination of floods and typhoons have been responsible for the deaths of 215 people across central and northern Vietnam since early October.
The Vietnam Railway Corporation has delayed 18 trains due to high waters, forcing about 4,000 passengers to wait at railway stations. At least 3,000 foreign tourists are unable to leave the popular resort cities of Hoi An and Hue.
Meanwhile, local police and army officers, armed with Kalashnikov rifles, are involved in a hunt for crocodiles, washed free from a state-run farm in the Khanh Hoa province. Locals have so far killed dozens of beasts for food, despite the fact that farm officials are offering a $100 reward for each crocodile returned alive.
The exact number of reptiles on the loose is unknown, but the farm housed more than 5,000 crocodiles.
Provincial health and sanitary departments have raised the alarm over a possible outbreak of cholera in the affected regions.