Health officials on Saturday warned of extremely hazardous air quality in the wake of this week's wildfires that devoured swaths of Southern California territory and spewed massive amounts of smoke into the atmosphere.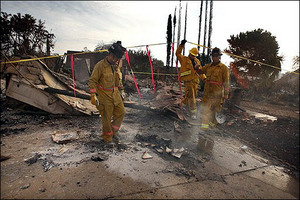 ©Agence France-Presse
Alarms were also raised about the longer-term effects of the pollution and the greenhouse gases produced by the fires, which ravaged 203,000 hectares (502,000 acres) of tinder-dry park and forest land, and destroyed as many as 1,800 homes.
In one week, the blazes poured the equivalent amount of greenhouse gas emissions into the atmosphere as 440,000 cars do over the course of one year, according to Patricia Rey, spokeswoman for the air resources board, part of the state Environmental Protection Agency.
"It is very concerning right now," Rey said. "We are really putting a lot of priority on trying to put out the right advisories for the people," she said.
The air resources board urged residents in five counties to stay indoors due to elevated pollution levels that are three times higher than the federal norms, raising particular danger for the elderly, children and those with asthma or breathing ailments.
"For sensitive groups, we are trying to keep them inside, telling them to try to avoid prolonged exercise activities. If you can do it inside it will be better. Run the air conditioner rather than keep open windows," she said.
"There are pockets of areas that are worse than others, but overall the advisories say they should really be concerned about outdoor activities."