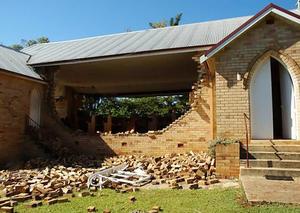 ©n/a
Trail of destruction ... the tornado blew the walls out of St Matthew's Anglican Church.
A freak tornado with winds up to 150 kmh that tore through a northern NSW village was one of the rarest weather events to happen in a populated area of Australia.
Storm chaser Jimmy Deguara, who relocated from Sydney to the Far North Coast for the storm season, recorded the devastation. The tornado rampaged through the village of Dunoon after clipping nearby Lismore, causing millions of dollars in damage.
Destructive twisters are more commonly associated with the Midwest of the United States, a Bureau of Meteorology spokesman said yesterday, and rarely seen by Australians.
Mr Deguara said the tornado came out of the bottom of a thunderstorm about 4pm on Friday. Large hailstones and destructive winds were battering Dunoon, Lismore, Byron Bay and Mullumbimby.
Chasing the storm in his car outside Dunoon, Mr Deguara saw the funnel of the rotating column of air emerge from the bottom of the storm clouds. "I was 150 to 100 metres from the eye of the tornado. You could hear the roar of it," he said.
"Debris was hitting the power sub-station [just outside Dunoon] and sparks were flying. I could clearly see the centre of the funnel with multiple vortex that are the layers of debris-filled air in the centre of the twister.
"I had to move the car to get out of the trail of the tornado. The tornado was then moving slowly towards the town. It was getting closer and closer. Debris was flying. I was ready to take off when I had to. It was awesome."
Residents, State Emergency Service personnel and Country Energy workers were assessing the damage to Dunoon yesterday. Richmond Tweed SES division controller Scott Hanckel said the tornado blew out the walls of St Matthew's Anglican Church, destroyed two classrooms at a primary school and tore the roofs off about 20 residences.
Resident Will Mercer told local newspaper
The Northern Star
the storm was like something straight out of the movie
Twister
. "It was spiralling round and round. It was a massive great big thing," Mr Mercer said.
A Country Energy spokesman said more than 3000 homes were without power in the Northern Rivers.