A quarter-million people fled their homes amid wildfires that had burned 100,000 acres around San Diego County, officials said Monday.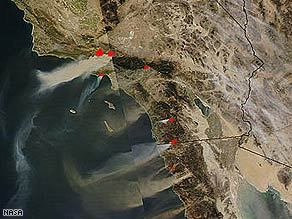 ©NASA
This photograph from space shows smoke rising from the wildfires in Southern California.
"The situation continues to deteriorate," fire chief Bill Metcalf said at 10 a.m. Pacific Time, with numerous structures lost across the county.
"I think there's a very good possibility it will reach the coast before it's finished," Metcalf said of one of the fiercest blazes.
"It's a tragic time for California," Gov. Arnold Schwarzenegger said Monday, declaring a state of emergency in seven counties.
"The wind is our number one enemy right now," he said.
The fast-moving fires are threatening the San Diego Zoo's Wild Animal Park. The park was closed Monday and some of the animals, like endangered condors, are being moved to a safer location, according to zoo spokeswoman Yadira Galindo.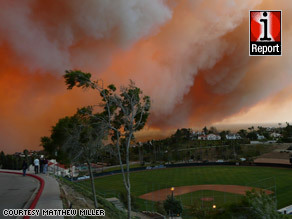 ©Matthew Miller
Pepperdine University student Matthew Miller submitted this photo of glowing haze over the skyline.
Video from the Lake Arrowhead area in San Bernardino County showed dozens of homes charred as huge plumes of smoke filled the sky.
Lake Arrowhead resident Michael Beamis said that several houses in the area are on fire, but there are no firefighters around. Officials believe the fire was started when winds blew down power lines.
Two fires are burning in the area: the Grass Valley Fire, and the Slide Fire, each covering about 300 acres with no containment.
The U.S. Forest Service said 1,500 homes are threatened by the Grass Valley Fire and 400 are threatened by the Slide Fire. The U.S. Forest Service confirmed some homes already have been claimed by the fire, but it did not know how many.
KABC has reported that their chopper pilot has seen 40 to 50 homes on fire.
Metcalf said the fires were consuming homes in the communities of Escondido, Rancho Bernardo, Poway, Forest Ranch and Lake Hodges.
One fire jumped Interstate 15 around noon, threatening Fallbrook, a community of 45,000 people, according to Holly Crawford of the San Diego Department of Emergency Services.
"We have more houses burning than we have people and engine companies to fight them," San Diego Fire Capt. Lisa Blake said, according to The Associated Press. "A lot of people are going to lose their homes today."
On one cul-de-sac in the San Diego suburb of Rancho Bernardo, five of six homes burned to the ground, leaving flames from gas lines flickering amid the ruins, according to a KGTV report.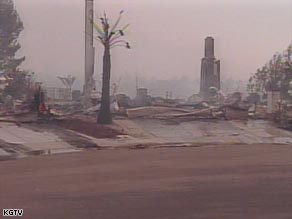 ©KGTV
Five homes burned to the ground Monday morning on a Rancho Bernardo, California, cul-de-sac.
Authorities pleaded with residents Monday to follow evacuation orders and stay off cell phones.
A nursing home and Pomerado Hospital in Poway were evacuated along with 700 Navy personnel and their families in military housing in Lakeside and Ramona.
Qualcomm Stadium, home of the NFL's San Diego Chargers, along with schools across the region were opened to take evacuees.
Fixed-wing firefighting aircraft were grounded by the strong winds, officials said, making the jobs of fire crews on the ground even harder.
A smaller fire that merged with the Witch Fire -- one of the biggest in the region -- entered the San Diego city limits Monday, said Mike Mohler with the California Department of Forestry and Fire Protection.
San Diego County Sheriff Bill Kolender said at a news conference the Witch Fire "will probably be the worst fire this county has ever seen -- worse than the Cedar Fire."
The notorious Cedar Fire killed a dozen people south of Ramona four years ago this week as it moved swiftly through the hilly terrain, eventually consuming more than 280,000 acres near the town northeast of San Diego.
Mandatory evacuations were ordered as the fires moved rapidly, Kolender said. "Please, when you are called, when you are notified, do what you were instructed to do," he said.
Crews that could be fighting flames have been tied up helping residents who didn't evacuate promptly, Metcalf said.
"We've been unable to do any suppression effort because, in most cases, the fire resources are being used ... to do rescues," said Metcalf, chief of the North County Fire Protection District in Fallbrook.
Authorities said cell phone lines are often clogged, which hurts rescue efforts. They're also asking people to hold off on 911 calls unless there is clearly an emergency.
The winds driving the flames are expected to stay strong, coming out of the northeast, at least through Tuesday, according to CNN meteorologist Rob Marciano.
A long line of vehicles streamed westward out of Ramona early Monday in response to a mandatory evacuation order as the front-line flames of the Witch wildfire swept rapidly closer to the San Diego County community.
The Witch Fire was one of several major wildfires to ignite Sunday around Los Angeles and San Diego, fueled by hot, dry conditions and pushed by fierce Santa Ana winds.
Large fires also bore down on Malibu and Santa Clarita north of Los Angeles as thousands of firefighters worked into Monday morning in the struggle to protect lives and homes.
About 1,400 firefighters battled the Malibu fire that started Sunday morning and had spread more than 2,200 acres, destroying 25 structures, including five homes, a glass company and Malibu Presbyterian Church. Officials ordered the evacuation of several hundred homes, including those of James Cameron, director of the movie "Titantic," and singers Olivia Newton-John and Tanya Tucker.
"All my stage clothing, boots, belts and wardrobe is in that house," Tucker said. "I have so much memorabilia since I just moved from Nashville to Malibu."
The Pacific Coast Highway remained shut down in Malibu.
A larger fire, fueled by wind gusts up to 80 mph, has spread more than 12,500 acres around Santa Clarita about 35 miles northwest of downtown Los Angeles.
Officials deployed at least 400 firefighters to battle the fire, which destroyed an estimated 17 buildings and threatened 3,800 Santa Clarita Valley homes. Authorities ordered mandatory evacuations for several communities.
Los Angeles County fire officials said the intensity of the blazes was staggering.
"You do not expect something to stretch our resources to this magnitude," Los Angeles County Fire Inspector Sam Padilla told The Associated Press. "To try and staff something this big, you cannot predict it."