A criminal gang being blamed for countless burglaries, thefts and vandalism in South Africa is made up entirely of baboons.
Residents of Cape Peninsula said the gang is at least 350 baboons strong.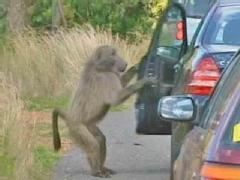 ©Unknown
The reason there's so many is that they are the country's last colony of coastal baboons and are a protected species.
The creatures have learned to break into houses and to open car doors.
Once inside a home, they generally head straight for the refrigerator where they take what they want and leave behind a big mess.
"People here are getting very angry," said Peter Kirsch, a local doctor. "They get into the kitchen. They know where the refrigerator is. They open it, they tear it to pieces. They grab whatever food they can. And then they move around the house, and they defecate all over the place."