Tropical storm Francisco, the 14th such storm to hit China this year, made landfall in south China's Hainan Province shortly after midday on Monday, causing a fishing boat with eight people on board to capsize.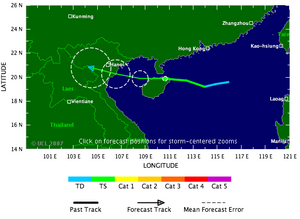 ©TSR
The tropical storm, packing up winds of 72 km per hour and bringing torrential rains, landed at Changfa Township in Wenchang County at 12:30 pm, according to the State Flood Control and Drought Relief Headquarters.
The four local governments of Hainan, Guangdong and Fujian provinces, and Guangxi Zhuang Autonomous Region all issued circulars ordering all fishing boats and ships to return to land.
However, in the early hours of Monday morning, a fishing vessel tried to return to the port of Haikou only to be caught up in the storm while in the Qiongzhou Strait, still 45 miles from shore, according to Zhang Jie, deputy director of Hainan Provincial Maritime Affairs Bureau.
Rescuers found two of the eight fishermen, all residents from Danzhou in western Hainan, near Hainanjiao east of Haikou at midday on Monday, said Zhang.
The remaining six are still missing and the rescue efforts are continuing.
The ferry service linking Hainan Island with the Chinese mainland for the rail route was suspended and some train services were cancelled.
The flood control bureau issued a level four warning (with level one as the strongest) at 10 am Monday and dispatched a four-member team to Hainan to guide the province's efforts in fighting the storm.
Francisco formed on Saturday night over the South China Sea and intensified into a tropical storm on Sunday morning.
Whirling at a speed of 15 to 20 km per hour northwestward, Francisco is expected to reach the northern part of the Beibu Gulf, south of Guangxi, on Monday night.