A flurry of tornadoes caused damage in a number of towns in central and southern England on Monday, officials and reports said, although no casualties were immediately reported.
Ferocious winds were reported in Farnborough, south of London, Luton and Northampton, north of the capital, and Nuneaton in Warwickshire, west central England, according to police and emergency officials.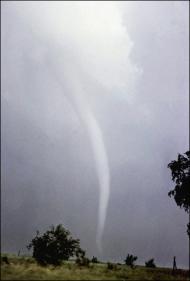 ©AFP
A flurry of tornadoes caused damage in a number of towns in central and southern England.
In Farnborough, 20 homes were hit by a tornado, ripping a roof from a garage and uprooting trees. "There are no reports of any injuries. We have three fire crews up there assessing damage," said a Hampshire Fire Service spokesman.
In Luton, tiles were pulled off roofs when a violent storm hit. Terrence Meaden of a tornado research group, Torro, said: "I have spoken with a witness who saw the tornado funnel at ground level going through her garden."
In nearby Northampton, fierce winds struck shortly before 7:00 am local time, causing rush-hour chaos, said the Northampton Chronicle and Echo newspaper.
"The house and bed shook and rumbled for about 10 seconds," said local resident Andy Cooper. "I jumped out of bed, looked out of the window and pressed my hands against it to feel the glass moving in and out."
In Nuneaton a tree was knocked over, blocking a road, said Warwickshire Police.
A Met Office spokeswoman said: "The weather conditions at the time were conducive to tornados ... The weather system that we are going through at the moment -- very windy with heavy rain -- is travelling across the country."
There are on average 33 tornadoes per year in Britain, Torro said on its website. Most last only a few minutes and track across land for between two to five kilometres (1.2 to 3.1 miles).
Windspeeds are between 72 and 113 miles (116-182 kilometres) per hour.
A tornado in July 2005 injured 20 people, three of them seriously, and devastated a suburb of Birmingham, west central England, ripping off roofs, uprooting trees and causing major structural damage.
Another in London in December last year saw about 100 homes damaged on a street in the west of the capital.