At least 15 vehicle collisions shut down several miles of westbound U.S. 60 between Interstate 10 and Dobson Road through Tempe and Mesa Thursday evening. The most severe wreck was a 27-car pileup in the westbound lanes halfway between Rural Road and McClintock Drive.
Weather was believed to be a factor with heavy rain in the area.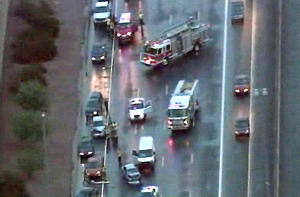 ©Channel 12 News
Multiple vehicle collisions are being reported on U.S. 60 westbound between Interstate 10 and Dobson Road Thursday evening.
That portion of the freeway has been closed and is expected to reopen by 9 p.m. Loop 101 access to westbound U.S. 60 is also shut down.
At least six wrecker trucks were still removing damaged vehicles and sweeping up debris in the roadway at about 8:15 p.m., more than two hours after the initial collisions were reported.
Four people were taken to area hospitals with non-life threatening injuries, according to Sgt. Tim Mason, a Department of Public Safety spokesman.
"We're very fortunate not very many people were injured," Mason said. "We're very fortunate nobody lost their lives, but mother nature definitely had a hand in this situation."
Nearly an hour after the first incidents were reported about 6 p.m., ambulances, helicopters and other emergency vehicles continued to respond to the scene.
Freeway ramps in the area were shut down and surface street traffic in the vicinity was bumper-to-bumper.
Onlookers gathered along areas where they could see onto the freeway, including children on scooters.
A Tempe Fire Department truck blocked access to the westbound frontage road at McClintock Drive and U.S. 60. According to police scanner traffic, one of the wrecks was a single vehicle that had crashed into a wall near Kyrene Road.
A pregnant woman with a head injury was reported to have been in an accident westbound near Dobson Road.
There was a late model sedan with its front end caved in right below the Rural Road overpass. About 100 yards west of that was another small fender bender.