A strong typhoon closed in on Tokyo Thursday, bringing downpours and gusts that injured 18 people and disrupted hundreds of flights, officials and reports said.
Japan went on alert for landslides and floods as it braced for Typhoon Fitow, which is expected to hit the capital and its vicinity by early Friday.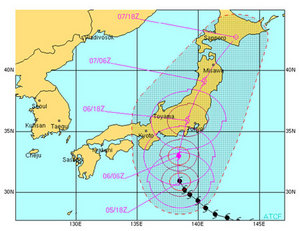 ©TSR
Typhoon Fitow, packing winds of up to 126 kilometres (78 miles) an hour near its centre, was in the Pacific and some 190 kilometres southwest of Tokyo late Thursday, the meteorological agency said.
If the typhoon maintains its current force, it will be the strongest to hit Japan since an October 2004 typhoon that killed dozens of people, although it could diminish by the time it reaches shore.
Public broadcaster NHK said at least 18 people had been injured.
In Chiba prefecture, east of Tokyo, a window glass on the Sobu line train broke due to the strong wind and injured seven passengers, it said.
In Shizuoka prefecture southwest of Tokyo, two men in a car suffered slight injuries when their car was hit by a tidal wave that broke the windshield, a local official said.
Another 77-year-old man was slightly hurt when a strong wind pushed him over, he said.
Television footage showed towering waves along the Pacific coast of Shizuoka and swollen rivers in other parts of mainland Japan.
Fitow, which is named after a flower found in Micronesia, was moving north at the speed of 15 kilometers an hour.
The strong wind cut off some electric lines, causing blackouts to some 25,000 household in central Japan, while regional authorities urged dozens of households in central Yamanashi and Gunma prefectures to evacuate, NHK said.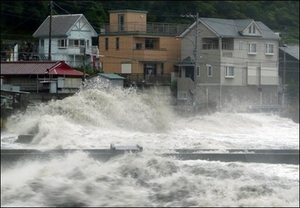 ©AFP
High waves batter a breakwater in front of houses at Yokosuka city.
At Tokyo's Haneda airport, at least 174 flights, almost all scheduled to take off or land in the evening, were canceled, the broadcaster said.
Railway services were partially suspended in provinces north of Tokyo due to rain, while coastal expressways were also partially closed due to high waves.
"Given the slow speed of the typhoon, we have to brace ourselves for heavy rainfall and strong winds that last for a long time," which increases chances of landslides and flooding, an agency official said.
Typhoons hit Japan in July and August, killing several people and injuring dozens.