The remnants of the once mighty Hurricane Dean triggered deadly mudslides in Mexico Thursday as driving rain drenched a large part of the country, bringing the storm's death toll to at least 25.
And with river levels swelling rapidly and pounding rain hitting unstable mountain flanks, officials warned the crisis was far from over, even though Dean was downgraded to a tropical depression.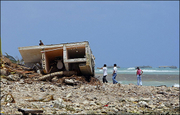 ©Omar Torres/AFP
People look at the remains of a destroyed house on Mahahual's beach, 80 km from Chetumal, after the passage of Hurricane Dean, 22 August 2007.
A couple and their two children were killed when a landslide buried the mountain path on which they were walking in Xochitlaxco, in a region of central Mexico mainly populated by indigenous Mexicans.
Two people were killed during the night when a landslide buried their house and one man died when his home caved in on him. On Wednesday, Dean was blamed for the death of a man electrocuted while repairing his roof.
Hurricane Dean had earlier killed at least 17 people during its rampage across the Caribbean.
Several rivers burst their banks in the central Mexican state of Hidalgo, cutting off roads and damaging farmland. More than 10,000 people in the state were evacuated to higher ground as river levels continued to rise.
In the eastern state of Veracruz, where the storm slammed ashore on Wednesday, Governor Fidel Herrera reported "important damages to houses," adding that the storm tore off many roofs.
Hardest hit were impoverished Mexicans living in fragile homes unable to withstand hurricane-force winds, or that lay exposed to flood waters or mudslides.
Further flooding was feared as Dean dumped huge amounts of rain over a dozen states, with Veracruz, Puebla and Hidalgo the most directly affected.
"We remain concerned because Dean is covering much of the Republic of Mexico and intense rainfall continues," Herrera told Televisa television.
In Hidalgo state, 1,100 police officers were deployed to Tulancingo following reports of looting after thousands of people fled their flooded homes and businesses.
Dean first slammed ashore on Mexico's Caribbean coast on Tuesday as a monster hurricane of the topmost category five. It gradually lost steam as it crossed the Yucatan Peninsula before swirling over the Gulf of Mexico and heading inland once more.
At its peak on Tuesday, Dean packed maximum sustained winds of 270 kilometers (165 miles) per hour, making it the first category five Atlantic hurricane to hit land since Andrew ravaged the US state of Florida in 1992.
Despite its intensity, Dean did not cause the catastrophic damages initially feared and spared Cancun and other major Mexican coastal resorts.
But the storm devastated some small communities in the Yucatan peninsula, including the tourist village of Mahahual, where residents who had fled ahead of the hurricane returned to find their homes in ruins and their possessions strewn on the sand.
"Mahahual doesn't exist any more, the wind took it away," said resident Luis Cortes, tears welling in his eyes.
In Ciudad del Carmen, on the shores of the Gulf of Mexico, hundreds of houses were affected by flooding.
Meanwhile, workers were set to return to offshore oil platforms in the Gulf of Mexico, where production should be back to normal levels next week, according to Petroleos Mexicanos (PEMEX.)
The state oil company had earlier evacuated all 18,000 personnel from its installations in the gulf, causing a production drop of 2.65 million barrels a day.