The Windy City and northern Illinois were braced for a second punch Friday after a sudden storm with 70 mph wind slammed into the Chicago area Thursday evening, tearing down huge trees and damaging buildings.
In the suburbs Thursday, part of an industrial facility's roof collapsed, injuring 40 people, and a tornado struck western Michigan, downing about 700 trees in Montcalm County.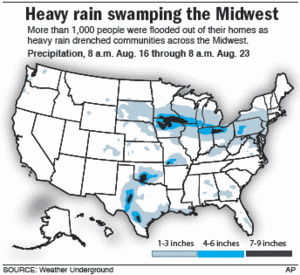 ©Weather Underground
Early Friday, another band of thunderstorms dumped more rain along a line from southern Iowa into Wisconsin.
Flooding caused problems for drivers in northern Indiana, where officials shut down a 3-mile stretch of eastbound Interstate 80/94 Friday morning and some of the westbound lanes. Several cities were redirecting traffic because of flooded streets and power was out to 30,000 customers.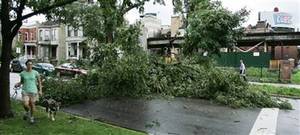 ©Charles Rex Arbogast / AP
A tree downed in Thursday's storm sits atop a crushed car one block from Wrigley Field in Chicago.
In Illinois, forecasters warned residents in the northern part of the state to prepare for flooding as another 2 inches of rain was expected Friday afternoon and evening.
"That's what we're worried about right now," said National Weather Service meteorologist Nathan Marsili. "It could turn out to be a pretty bad flooding situation for the area."
At Northern Illinois University in De Kalb, the campus was closed down Friday but students who had already moved into dorms for the new year were told to stay put since only two roads were open into or out of the city.
500 Chicago flights canceled
In Chicago, where new thunderstorms were predicted for Friday afternoon and evening, about 500 flights at O'Hare International Airport were canceled Thursday evening and others delayed for more than 2 1/2 hours. Friday morning saw delays and a few cancellations as service was restored.
Both Chicago airports lost power during the storm, and many passengers spent the night at the airports.
About 310,000 homes and businesses in northern Illinois and 115,000 in Michigan were without power during and immediately after the storm.
Some 264,000 customers remained without power Friday morning and ComEd utility spokesman Tom Stevens said it could take days to restore power for some customers north of Chicago.
A few businesses found a bright side to the storm raging outside on Thursday.
"It was out of control," bartender Nick McCann said. "People would not leave. ... We had $2 margaritas, and people were getting hammered."
Kimber Hall, 20, was riding her bike along Lake Michigan when the sky opened up.
"Out of nowhere, the sky just went black," she said. "Sheets of rain. Lightning hit a tree about 25 feet away from me. A branch hit me in the face."
Hall said she found shelter at a nearby underpass, where others had also huddled to escape the rain and lightning.
Two more deaths, flood watch
Nearly a week of heavy rain and devastating flooding across the upper Midwest has damaged hundreds of homes and has been blamed for at least 16 deaths, including two on Thursday.
Earlier, heavy rainfall in Texas and Oklahoma related to a tropical storm killed more than two dozen people.
The powerful storms that swept Illinois blew over a tree in rural Knox County, killing one man. Flooding in Ohio was blamed for the death of another Thursday, a 92-year-old man who drowned trying to get to safety after his car became trapped in floodwater near Findlay.
Most of southern Iowa was under a flash flood watch through Friday evening as as much as 8 inches of rain fell, the National Weather Service said.
Ottumwa residents were asked to conserve water because all the rain had backed up sewers and flooded a pump room at the water plant. The water wasn't contaminated yet, officials said early Friday, but the city's 25,000 residents were advised to boil it.
Ohio heat wave
Hard-hit Ohio finally got a break on Thursday, at least from the rain. Instead, the state got temperatures in the upper 90s making that the cleanup from widespread flooding even more of a struggle.
In Findlay, which saw its worst flooding in nearly a century, people tried to pump water from their basements and tally their losses.
"Most of it's ruined," Joe Lamb said as he sorted through a bin of soaked NASCAR memorabilia, hosing off the mini Dale Earnhardt collector cars and tossing the rest. "Our Christmas stuff, everything."
A day earlier, firefighters and volunteers in boats and canoes had navigated the waist-deep floodwater to rescue their neighbors. Some residents were still stuck in a shelter, where 200 people slept Wednesday night.
In southwestern Wisconsin, the National Guard pumped water to relieve pressure on at least one dam, said Mike Goetzman, a spokesman for Wisconsin Emergency Management. The earthen dam had been eroded earlier this week by water from the weekend thunderstorms.
Iowa officials were keeping a close eye on the Des Moines River, and In the river town of Fort Dodge, crews scrambled to shore up a levee.
At Fox Lake, in northern Illinois, residents were busy stacking sandbags to protect their houses from the rising Fox River, said Ami McEwan, assistant administrator for Lake County.
"Most of them are sandbagging and keeping it at bay," she said.