A day of record rainfall Monday in Metro Detroit caused havoc for motorists and residents who endured power outages and severe flooding and turned some streets into muddy swamps that left 100 homes in Dearborn inundated.
Through 7 p.m. Monday 1.62 inches was reported at Detroit Metro Airport, passing the one-day record of 1.5 inches set in 1904, said National Weather Service meteorologist Greg Mann.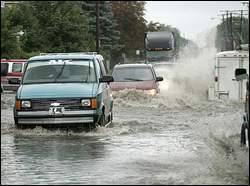 ©David Guralnick / The Detroit News
Motorists wade through a flooded Central Street in Detroit. Elsewhere, some passers-by stopped to help motorists in trouble, and some charged for their services.
Today is expected to bring more pleasant weather with temperatures in the high 70s, said John Feerick, a meteorologist for AccuWeather.com
Hot and humid weather will return Wednesday, with temperatures expected to reach 88 degrees.
By late afternoon Monday, the heavy rainstorms had moved out of the region and to the southeast but not before pouring into basements and pooling on roads. The most severe flooding was reported in Dearborn, Dearborn Heights and southwest Detroit and prompted the Red Cross to open an emergency shelter at Salina Intermediate School in Dearborn's south end after homes along Akron and Lowrey streets flooded.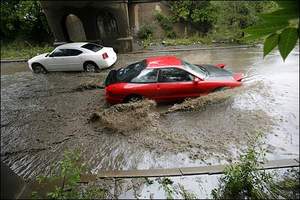 ©David Guralnick / The Detroit News
High waters slow down cars on Central Street in Detroit. The most severe flooding was in Dearborn, Dearborn Heights and southwest Detroit, prompting the Red Cross to create an emergency shelter.
On Dix near Patton Park in southwest Detroit, the roadway flooded waist-high. Cars were stuck in the roadway or the saturated grassy area where motorists thought they could avoid the deluge.
Rasha Haddad, her husband, Majed, of Detroit and their two young daughters were among those stuck. A passer-by helped Majed Haddad push the family's Mercury Mystique out of the mud.
"It's crazy; they need to fix the street," said Rasha Haddad.
Fares Nahhas of Dearborn Heights was trying to free his 2002 silver Lexus from the mud and rain-soaked grass by placing two stones under the front tires. As he did, he chided a budding entrepreneur for charging $10-$20 to free cars.
Brian Hanover's Chevy Silverado stalled on Western in Detroit. No sooner had he returned home than the truck driver found his basement flooded.
"Everything is destroyed," said Hanover, 46. "This is ridiculous."
Neighbor Dean Prather found a bicycle collection submerged to the handlebars. The pools outside kept him from venturing to a store for food. "It's all the way up to your waist," he said.
Flooding also damaged a washer, dryer, furnace and machinery in Earl Curry's basement. "It's sad," he said. "I've never seen it rain that hard."
By 10 p.m., the water had receded little at Western, Curry said.
Ronald Grant, a spokesman for the Southeastern Michigan Chapter of the American Red Cross, said the shelter at the Salina school would remain open through at least today.
"This is something really unpredictable, and we have to be prepared to provide what we can to those affected by this," Grant said.
Communities in the southern part of southeast Michigan fared the worst as the slow-moving front dropped more than 2 inches of rain in parts of the region in a 24-hour period starting Sunday.
"You just can't win," said Jennifer Sharp of Clinton Township. "It was too dry for most of the year, and now we're getting soaked. You've just got to drive a little slower and be more careful."
DTE Energy said 5,000 customers scattered throughout southeast Michigan were without power Monday evening. Spokeswoman Lorie Kessler said crews would be working throughout the night to restore outages.