Caught in surging waves in rough sea amid a fresh low over the Bay of Bengal, two ships with cargo capsized off the Chittagong seaport while another ran aground in Barisal yesterday.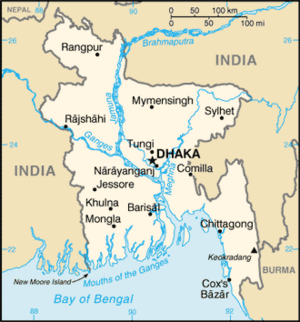 ©CIA World Factbook 2002
Port sources said MV Feroz Farzana, carrying 700 tonnes of cement clinker, sank at Karnaphuli estuary while returning to the port with clinkers unloaded from a Korean ship at the outer anchorage at about 4am.
Twelve crewmen were rescued by trawlers and boats.
"Port's two tugboats, Kandari-1 and 2, tried to locate the sunken ship several times, but failed due to stormy weather," one official said.
Port Radio Control sources said the 500 tonnes-capacity vessel was "overloaded".
A Dhaka-bound oil tanker named 'MT Saima', carrying 13,000 tonnes of fuel oil, also sank in the Sandwip Channel at noon as the calamitous weather conditions continued to prevail.
The tanker ship was coming from Patenga tank terminal in the morning.
Port tugboats rescued all the 12 crew.
Meanwhile, another oil tanker got caught in strong wind and ran aground at Ramdaspur in southern Barisal district early in the morning.
The Khulna-bound MT Rajanigandha, with 11,000 tonnes of fuel oil, got stranded on a shoal at about 5am. The lighter ship could not be salvaged until evening Port Radio Control sources said.
Thirteen crewmen of the ship were rescued by a port rescue team from Khulna.