Typhoon Sepat swept towards Taiwan on Friday packing winds of more than 180 kilometres (125 miles) per hour, disrupting flights, schools, rail and ferry services.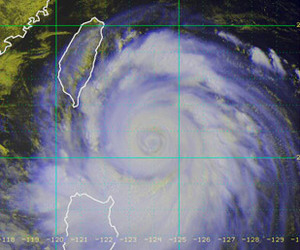 ©US National Oceanic & Atmospheric Administration
The Central Weather Bureau said the typhoon was set to make landfall late Friday or early Saturday in eastern Hualien, pounding the island with strong winds and torrential rains.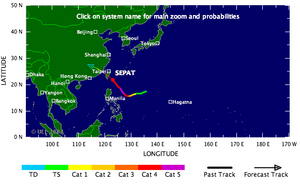 ©TSR
Typhoon Sepat Track as of 17 Aug, 17:10 GMT
"Sepat's impact is expected to be the strongest on Saturday morning and can bring as much as 1,000 millimetres (39 inches) of rain to eastern Taiwan," said Daniel Wu, head of the bureau's forecast centre.
With a radius of 250 kilometres, the typhoon was centred some 260 kilometres southeast of the southern city of Taitung at 17:30 pm (0930 GMT), the bureau said.
At least 871 people living in mountain villages in eastern Hualien and Taitung were being evacuated as downpours and winds started pounding the areas, said the National Fire Agency which coordinates rescue efforts.
Some domestic flights and rail services were cancelled on Friday while offices and schools were ordered to shut in eastern Taiwan.
Ferries between Taiwan's Kinmen island and the Chinese cities of Xiamen and Chuanzhou were suspended for Friday afternoon and Saturday, port authorities said.
Television footage showed residents and shop owners in the coastal Hualien and Kenting areas removing large signs and billboards and piling up sandbags, while outdoor festivals this weekend were postponed.
On Saturday, all domestic flights will be suspended while the China Airlines and the EVA Airways will cancel some flights to international destinations including Bangkok, Hong Kong and Macau.
The weather bureau urged residents across Taiwan to take precautions and to avoid coastal activities, while people in mountainous regions have been told to be wary of mudslides.
Nearly 4,000 Chinese fishermen were seeking shelter in Taiwanese harbours, according to the National Fire Agency.
Sepat has evoked painful memories of Typhoon Bilis which hit the island in 2000, killing 11 people and causing huge damage to agriculture.