Around 60 people are thought to have died in the Indian Himalayas after a cloudburst caused a landslide that buried an entire village, officials said on Wednesday.
The army has been called in to look for bodies after Tuesday night's cloudburst in Dharla village in the northern state of Himachal Pradesh. But heavy rain was hampering rescue work.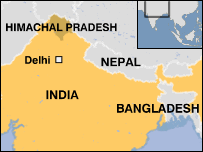 ©BBC
"There is so much debris which has fallen on the houses that nothing except few lanterns are visible," local police officer Vidya Chand Negi told Reuters. "Huge boulders 20 to 25-feet high have completely crushed the houses."
Negi said five bodies had been recovered and around 55 people were missing, with 14 houses and a primary health centre buried.
"We don't expect any survivors," he said, adding that some of the bodies could already have been washed away in the river which flows in a gorge below the village.
Many of the victims were laborers constructing hydro-electric power stations in the area.