Denuded of their protective armour of sand, several beaches in KwaZulu-Natal are being swallowed up by the sea in the aftermath of the monster sea storms, that hit the coast more than four months ago.
Over the past few months, the Indian Ocean has been eating away slowly, but relentlessly, at several beaches - to such an extent that the high-tide mark has advanced up to 100m inland in some places.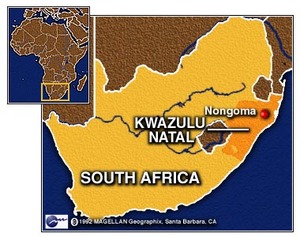 ©Magellan Geographix
Marine scientists believe the recent erosion - which has destroyed large sections of beach at Amanzimtoti and other parts of the coast including Eastmoor Crescent in La Lucia and at Salt Rock in the north - can be traced back to the morning of March 19, when a major sea storm ripped billions of tons of sand from the beaches and protective inshore sand bars, and dumped it at sea.
"The sand has been moved so far out to sea that the waves are unable to wash the sediments back to shore - and now the waves are literally mining the beaches in places in an attempt to restore the former equilibrium between erosion and deposition of sediments," Durban marine geologist Alan Smith said.
"We haven't had a storm like that (March 19) in living memory and it might take up to five years for things to settle back to normal. Five years is a bit of a thumbsuck estimation because we are in uncharted territory, but the coast is definitely out of equilibrium and we are already seeing that waves are breaking further out from the beach," he said.
In some places, Smith said the high-tide mark had moved inwards by almost 100m.
And the bad news, according to senior eThekwini coastal policy official Andrew Mather, is that the worst may not be over yet.
Abnormally high equinox seas are expected again on September 21, which are likely to cause further damage if they coincide with stormy weather at sea.
Commenting in the wake of the recent severe beach erosion at Amanzimtoti and the Happy Wanderers holiday resort at Kelso, Smith said the lesson for developers was to reconsider building too close to the beach.
"We have had a building boom along the coast for a quarter of a century, but there have not been any really big storms in this time. Ballito, in particular, was a bomb waiting to go off and now it has."
Durban marine geoscientist Peter Ramsay said the erosion during the past few months had to be seen in the context of a series of unusual, but natural, events.
Ramsay said that on March 19 the sea was at its highest level for 18.6 years owing to a cyclical alignment of the moon, sun and Earth, coinciding with severe sea storms, which drove up the height of the waves.
These storm waves had ripped large volumes of sand off the beaches and into the sea, leaving beachfront properties "unarmoured".
Ramsay agreed with Smith's suggestion that it could take some time for the equilibrium to be restored.
"You are probably looking at two to three years to get back to a pre-March 19 situation," he said.
Ramsay said sandy sediments tended to build up along the beach during calmer sea conditions, but were eroded during winter storm events.
He noted that the coastline was a dynamic, ever-changing environment and to build hardened structures too close to the shore was a recipe for disaster.
Ron Uken, the Director of the Marine Geoscience Unit at the University of KwaZulu-Natal, said he believed the equilibrium of the coast should begin to stabilise this summer.
"Trying to understand these complex and dynamic processes is very difficult and I don't think we can reach firm conclusions without more hard data."
However, it was a plausible theory that the March 19 storm had disrupted the coastal sediment regime.
"The whole beach profile has changed since then and nature is trying to find a new equilibrium because the beaches have been given a big knock."
Mather said the loss of so much sand from the beaches in recent months was aggravated by the fact that rivers did bring fresh sediments on to the coastline during the dry winter months.
"If Alan Smith is right in suggesting that it could take up to five years to get back to normal then we won't have any buffer and the erosion will continue," he said.
"We can't tell hotels to pull back by 100m, but we may have to start making choices about which sections of coast we defend and which sections where we cut our losses and retreat."
"We are not out of the woods yet. I think we can expect more damage, particularly during the equinox tides in September."