A volcano in northern Tanzania erupted on Friday, spewing small amounts of smoke and lava, the government spokesman said.
Mt. Oldonyo Lengai, which is close to the border with Kenya, is believed to be the source of a series of shallow earthquakes experienced in the region over the past week, said Alfred Mutua, the Kenyan government spokesman.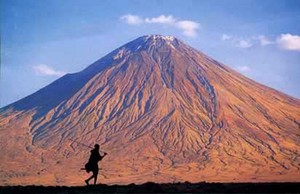 ©Unk
"Scientists believe this (the eruption) has reduced the pressure that was there, hence the decrease of the tremors," Mutua said in a brief statement.
The U.S. Geological Survey said that the series of earthquakes experienced since July 14 are a phenomenon known as "seismic swarm."
The highest magnitude of earthquake recorded so far was 6.0 on the Richter scale registered on Tuesday, which was felt throughout northern Tanzania and parts of neighboring Kenya.
The U.S. Geological Survey said that swarm in Tanzania is situated close to Mt. Oldonyo Lengai.
"Although volcanic eruptions are often preceded and accompanied by earthquake swarms, most earthquake swarms are not associated with volcanic eruptions," the U.S. Geological Survey said on its Web site.