A flood-weary region cringed again early this week as more rain fell, causing more high water.
Storms drenched parts of Oklahoma and Texas, dropping 3 to 6 inches of rain. Thunderstorms were forecast for the region for the rest of the week.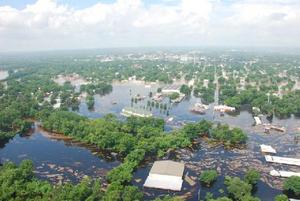 ©National Weather Service - Wichita, Kansas
Residents cleaning up from flooding in Coffeyville must cope with an oil spill as well.
The hardest hit areas in the latest deluge included the Oklahoma counties of Atoka, Cleveland, Creek, Grady, McCurtain, Muskogee, Oklahoma and Pottawatomie counties, the Department of Emergency Management reported.
Flood warnings were in effect for parts of central and eastern Oklahoma. High water again closed numerous roads and highways. In McClain County, high water forced the evacuation of several families.
The storms Monday and Tuesday also brought high winds to parts of the state. Businesses and several homes saw wind damage in Eufaula and Muskogee County. More than 13,000 people lost power during the storm and some 1,800 remained without power late Tuesday.
Four structures were damaged Monday night by a tornado that hit Warner. A church and a mobile home sustained roof damage.
Flooding that began in late May has affected more than 900 homes in Comanche, Nowata and Pottawatomie counties and the cities of Miami and Bartlesville. The state reported that of those, 252 homes were destroyed, 322 sustained major damage, 182 had minor damage and 182 were affected by the flooding. Another 43 multi-family properties, primarily apartments, also sustained damage; 13 were destroyed and 30 had major damage.
Many eastern Texas counties remained under flood warnings as well. The Texas Division of Emergency Management reported that the Nueces, Trinity, Neches, Lufkin, Guadalupe, Lower Brazos and Sabine river basins are all still being impacted by high water.
Parts of Texas have been hit by severe flooding since late May and early June. The storms have destroyed or heavily damaged 1,000 homes in six counties and left at least 17 people dead or missing, officials said. Some 49 counties in the state have been affected by heavy flooding.
The same weather system that dropped rain on Oklahoma and Texas spawned a small tornado in North Dakota on Monday night. The EF1 tornado injured four people in White Shield and damaged four homes.
Other Midwest areas hit by flooding were drying out. Residents in Coffeyville, Kan., will be allowed to return home Wednesday to gather belongings after being forced to evacuate early last week. Severe flooding hit about one-quarter of the southeastern Kansas town. An oil spill at Coffeyville Resources Refinery, estimated at more than 70,000 gallons, and sewage leaks into the floodwaters added to problems there.
City officials warned residents that the mix created a health hazard and that homes would be marked with colored signs to indicate which were safe to enter. Children and the elderly were advised not to enter the town Wednesday to salvage belongings because of the health risks.
An 8 p.m. to 8 a.m. curfew was in place for Wednesday and Thursday in the flood zone.
The Coffeyville Ministerial Alliance was sponsoring a community night of prayer on July 20. The United Methodist Committee on Relief sent in flood buckets for distribution.