Donald Trump, whose low-rated reality show "The Apprentice" was left off the new prime-time schedule unveiled this week by NBC, says the network can't fire him -- he quits.
Comment: LOL! Consummate narcissist!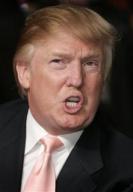 © Unknown
Trump exclaims, "You can't fire me, I quit," in response to which NBC and countless Americans laughed hysterically in his face.
The real estate mogul issued a statement on Friday saying he has informed the U.S. television network he is "moving on from 'The Apprentice' to a major new TV venture," though he declined to elaborate.
Comment: "Now that you've fired me I quit! I'm moving on! I've got a major new TV thingy dealy, which I happened to have mastered the art of. Read my book!," Donald said, whereafter his stylist re-arranged the comment to better match his sweeping comb-over hairdo.
There was no immediate comment from NBC.
But his announcement appeared to end any lingering doubt that "The Apprentice," which turned the self-styled tycoon into a television star and popularized the catch phrase, "You're fired," would be banished from NBC's airwaves next season.
The corporate-themed reality show, which aired in dozens of countries around the world, featured young, aggressive entrepreneurs in a weekly game of elimination as they competed for a real-life job in Trump's business empire.
"The Apprentice" debuted as a hit in 2004, averaging nearly 21 million viewers and ranking as the top-rated new U.S. TV show its first season. But the series dropped steadily in the ratings in successive years, losing nearly two-thirds of its original audience by the time it wrapped up its sixth installment last month.
The show's future was cast into further doubt on Monday when the network announced a 2007-08 programming lineup that made no mention of Trump. But NBC executives refused then to absolutely rule out a reprieve once rival networks ABC, CBS and Fox had laid out their schedules for next season.
The statement from Trump's organization seemed to spell a definitive end to the series.
"It looks like viewers will have to wait to see what Mr. Trump plans for the future," the statement said. "But if Mr. Trump's past TV success is any indication of the future, then one can anticipate that millions of 'Apprentice' fans will be migrating to his new venture."
Comment: A not-so-subliminal suggestion? My oh my how people are so easily herded.
Trump and NBC still remain in the beauty pageant business together. The two announced in March a renewed deal to keep annual broadcasts of the Miss USA and Miss Universe pageants, which Trump co-owns, on the General Electric Co.-controlled network through 2010.