Heiress to a share of the Hilton Hotel fortune, Paris Hilton, was recently ordered to 45 days in jail for violating her probation.
But because of some serious overcrowding in Los Angeles jails, she may not have to serve the complete sentence.
Comment: Boy that's good because we were getting a bit concerned that she might not get speshul treatment.
Maricopa County Sheriff Joe Arpaio says he's spoken to the chief of jails in Los Angeles and offered to house Hilton at Tent City.
"I just made an offer," Arpaio said. "Instead of reducing her sentence, which I feel is wrong, why not bring her over here? We can incarcerate her here. She can do her time over here."
Comment: Ya, but what amenities can you offer a speshul delicate socialite butterfly? Hmmmm?
And according to the Maricopa County Sheriff's department, the Los Angeles County Sheriff is considering the proposal.
"Oh, I'd love to have her here," Arpaio said. "Just another celebrity. Not that I'm a publicity hound, but I'd imagine if I had her in these tents there'd be (publicity)."
Comment:
See the video below for a brief glimpse of life on the chain gang:
Arpaio says that while that Los Angeles County is considering his offer, Hilton's lawyers will probably object.
Hilton's Shrink: Paris is a Wreck
Paris Hilton's delicate state of mind is keeping her out of the courtroom ... for now.
Comment: That poor, poor, delicate, speshul social flower. This must be devastating for her.
According to a declaration filed by Dr. Charles Sophy, a psychiatrist who has seen Paris "off and on" over the last six months, Hilton is "not capable of any meaningful participation" in a civil trial brought against her by diamond heiress Zeta Graff. In a $10 million lawsuit filed in 2005, Graff claims that Hilton spread "vicious lies" about her that were printed in the New York Post.
Comment: Paris is apparently suffering tremendous trama from the shock of the outrageous legal system that holds her accountable for her actions. How dare they! Those swine!
Paris' shrink claims that Hilton is "emotionally distraught and traumatized" from the May 4 hearing where she was sentenced to 45 days in jail for breaking probation in her DUI bust, and asked a judge to allow her sufficient time to recover. In the document, the head-doc goes on to explain that Hilton "Cannot effectively respond to examination as a witness or provide any significant input into her defense." In fact, Sophy claims that forcing Paris to participate on May 21 would "exacerbate her current mental condition." The horror!
Comment: Ya, the horror! Leave her alone damnit! She's a celebrity!!!
As a result, the judge has postponed the trial date until August 22.
Calls to Hilton's rep were not immediately returned.
Comment: He's gonna call 'em back later, because it's fashionable to be late. Duh.
A joint before the joint? Prison-bound Paris pictured smoking cannabis
Just when she thought things couldn't possibly get any worse, pictures have surfaced of Paris Hilton surreptitiously smoking cannabis.
Comment: But it's OK because she's Paris Hilton. So back off dudes.
The 26-year-old heiress was photographed allegedly smoking a joint while backstage at last month's Coachella music festival.
Comment: "But, but, but, I thought my doctor issued me a medical marijuana prescription," she allegedly mumbled.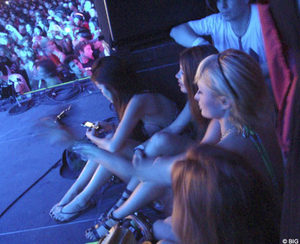 © BIG
Paris Hilton relaxes with pals back stage at the event, oblivious to the fact that people everywhere have digital cameras.
Paris attended the event with a group of pals weeks before her court hearing, but clearly wasn't concerned about keeping out of trouble ahead of the case.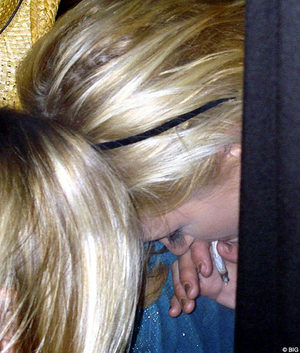 © BIG
Ooopsie! Paris caught self-medicating at the music festival. Sort of gives a new twist to the idea of 'let's do lunch', eh?
Hilton now faces a 45-day jail term for for driving while her licence was suspended.
As it stands, Hilton - who has appealed to the Governor Arnold Schwartzenegger for a pardon via an online petition - is scheduled to be admitted to jail on June 5.
The online Free Paris Hilton petition has gathered more than 25,000 signatures - but unfortunately for the reality TV star, a rival campaign, Jail Paris Hilton, is twice as popular, with more than 60,000 supporters.
Comment: LOL !!!
Hilton can expect tough conditions at LA's Century Regional Detention Center where is set to serve her time.
Her cell will be approximately 12 feet by 8 feet and feature very basic amenities such as a sink, toilet and mirror.
Comment: What?!? No television, no cable hookup, no computer, no Internet, no telephone, no answering machine? What about a butler and maid and personal stylist?!? This is outrageous! Such inhumane treatment!!!
According to reports, inmates are forbidden from wearing makeup and hair extensions, and are allowed only two pairs of socks and underpants.
Comment: Wow. Let's hope she's potty trained already or it could get messy!
Hilton, who has been making the most of her freedom with bike rides, shopping trips and even a church visit, is said to be in a fragile state of mind as her sentence looms.
Comment: She's gonna miss smoking out with her pals...
Dr. Charles Sophy, Hilton's psychiatrist, wrote in a report: "She is emotionally distraught and traumatized as a consequence of the findings at the May 4 hearing, the jail sentence imposed upon her by the judge, and her fear of incarceration."
Comment: Ah, no worries, that's nothing a little reefer can't fix.
The assessment was part of a document given to an LA court in relation to £5 million slander and libel suit against Hilton by actress Zeta Graff.
Comment: Hey back off Zeta! You're dealing with Paris Hilton! Heir to the Hilton fortune! She can do anything she wants!
Hilton is scheduled to testify in the trial next week, however Dr. Sophy contends that in her current state, she is "not capable of any meaningful participation in a trial."
Comment: Ya, plus she's already scheduled for meaningful participation in jail. Or maybe Tent City. She's gonna have to get back with ya on an opening when she frees up some time in her schedule. She'll have her people call your people.