A hospital screened footage of a baby being born by caesarian section on a giant screen at a shopping mall in China.
Anzhen Hospital, in Changsha city, broadcast the eight minute clip three times at the downtown Fashion Square mall.
"We wanted to do something special on Mother's Day. And we think broadcasting a C-section is a good idea," said a hospital spokesman.
"On the one hand it can remove the fear of future mothers, on the other hand we want people to see how great our own mothers are."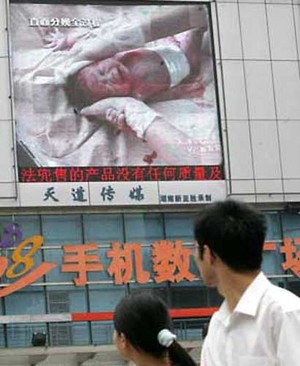 ©unk
But reactions to the film were mixed. Some thought it a fitting tribute to mothers but others found it shocking.
"It's too bloody," a female university student told the Xiaoxiang Morning Newspaper.