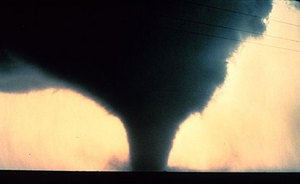 ©NOAA Photo Library
An F2 tornado roars near Seymour, Texas, in April 1979. F2 and F3 tornadoes are considered strong, packing winds of 113-206 mph that can cause major to severe damage.
OKLAHOMA CITY - A tornado as wide as two football fields carved a devastating path through an eastern Colorado town as a massive spring storm swept from the Rockies into the Plains, killing at least four people in three states, authorities said Thursday.
Sixty-five tornadoes were reported in Oklahoma, Texas, Kansas, Colorado and Nebraska on Wednesday, the National Weather Service said.
One twister killed an Oklahoma couple as it blew their home to pieces. Another woman died after the Colorado tornado hit, and a Texas man was found dead in the tangled debris of his trailer.
The massive storm system stretched from South Dakota to Texas on Thursday morning, threatening flash flooding in central Nebraska and Kansas and more severe weather farther south.
Winter storm warnings were still posted for most of Wyoming, where heavy snow was blamed for interstate pileups, forecasters said. In central Wyoming's Wind River Mountains, 58 inches of snow from the storm was recorded by Thursday morning.
Some of the worst devastation was in Holly, Colo., where at least eight people were injured when the tornado plowed through the town late Wednesday. Dozens of homes were damaged and the streets and yards were littered with broken power lines, tree limbs and debris.
"Homes were there and now they're gone," Prowers County Administrator Linda Fairbairn said. "Many, if not all, the structures in town suffered some degree of damage."
A 28-year-old woman whose home was hit in the Holly area died after being airlifted to a Colorado Springs hospital, Coroner Joe Giadone said Thursday.
The Colorado tornadoes also killed dozens of cattle, and injured others so severely they will have to be shot, rancher Bill Lowe said. "It's better than letting them suffer," he said.
Just three months earlier, back-to-back blizzards and subzero temperatures killed about more than 10,000 of the livestock on farms across Holly's southeastern corner of the state.
"It's just too much," Lowe said. "You ought to see the town."
At least 11 tornadoes were reported throughout western Nebraska, destroying or damaging three homes and 10-12 miles of power lines, emergency management officials said. Two tornadoes touched down in far northwest Kansas, severely damaging three homes, the Cheyenne County sheriff's department said.
Near Elmwood, Okla., Vance and Barbra Woodbury were killed when the storm blew apart their home, said Dixie Parker, Beaver County's emergency management director. Their bodies were found about 75 feet from the obliterated structure.
"We set off the tornado sirens, but they live too far out to hear them," Parker said. "The house was just flattened, the out buildings are gone. All that's left is debris."
The Texas Panhandle was hit with baseball-sized hail, rain and tornadoes that uprooted trees, overturned trucks and injured at least three people. Monte Ford, 53, was killed near Amarillo when he was thrown about 15 feet from his oilfield trailer, which was rolled by the wind, Department of Public Safety spokesman Dan Hawthorne said. In Holly, a town of about 1,000 residents 235 miles southeast of Denver, the storm tore the back off Cheryl Roup's home and flipped it into her front yard, the Denver Post reported. Somehow, her China closet survived the damaged, and her border collie, Lacy, escaped harm.
"Lacy managed to crawl out from under the rubble, but she seemed OK," Roup told the Post. "She's a little shocked, much like I am right now."
The same storm system dumped snow on Wyoming, where a school bus carrying 36 students from Tongue River High School to a competition in Cheyenne collided with two minivans on Interstate 90 Wednesday, school officials said.
Soon after that crash, another pileup started nearby involving several passenger vehicles and seven big rigs, two of which were hauling diesel fuel. One of the diesel haulers rolled over, and authorities said the other leaked around 1,000 gallons of fuel. No one on the bus was hurt, but four other people were taken to a hospital, Wyoming Highway Patrol spokesman Sgt. Stephen Townsend said.
The wintry weather closed a 250-mile stretch of Interstate 80 in southern Wyoming. Large parts of Interstate 25 and more than 80 miles of I-90 were also closed.