About Spyraal
Name: Spyros Frigas

Spyros Frigas has been a SOTT reader since 2005. He has studied graphic arts and 3D animation in Athens, and works as freelancer animator and compositor. He has been a member of the Doc Connector magazine team as graphic designer and illustrator. He is interested in history, science and space, politics and spirituality. In his free time enjoys reading, riding and kayaking the Greek seas.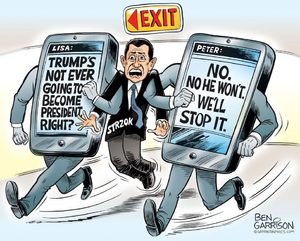 Strzok has left the building
Mystery creates wonder, and wonder is the basis for man's desire to understand. Who knows what mysteries will be solved in our lifetime, and what new riddles will become the challenge of the new generations.
- John Keel
Recent Comments
You have to admire TRUMP's patience. He is trying to do it by the book at least. Something Hitler would have shortcut. Trump is using TIME and the...
---
While I haven't been following all the movements in trade prices and such, I'm sure that we are currently in a much better position now right? Or...
---
"deeply troubled by reports of increasing Syrian regime operations" in their own country, you murderous psychopaths
---
Highlights: Argentina 0-3 Croatia – Fifa World Cup 2018...[Link]
---
My comment is on the documentary, nothing biblical. Having come to read and catch up on the news tonight, and having tried to pay attention to...