About Spyraal
Name: Spyros Frigas

Spyros Frigas has been a SOTT reader since 2005. He has studied graphic arts and 3D animation in Athens, and works as freelancer animator and compositor. He has been a member of the Doc Connector magazine team as graphic designer and illustrator. He is interested in history, science and space, politics and spirituality. In his free time enjoys reading, riding and kayaking the Greek seas.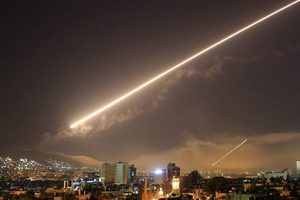 Syrian air defense systems protecting Damascus - the oldest continuously-inhabited city on Earth - from Western airstrikes, 14 April 2018
In the Truth there is no news, and in the News there is no truth
- Popular Russian saying under Soviet Communism
Recent Comments
Heh heh. Maybe they'll start harassing Smiths fans. Morrissey's far-right vegan wig-out.... "Morrissey backs controversial far-right party For...
---
Grown ass men don't get kicked of Britain for pretending to be children, ISIS terrorists are welcomed back to France, Germany, Belgium, England...
---
How interesting innocent unarmed men, women & children are being slaughtered by Jews in Israhell and not one comment on Sott condemning them.
---
Propaganda, Propaganda from whom. Propaganda can't come from individuals. Propaganda comes from states, governments or military back authoritarian...
---
It is starting; arresting people for words said, words posted, accusing people of crimes of the mind, accusing people of treason on live...