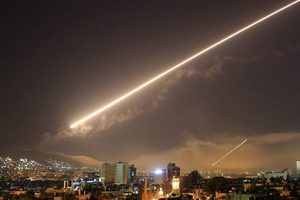 Syrian air defense systems protecting Damascus - the oldest continuously-inhabited city on Earth - from Western airstrikes, 14 April 2018
If ignorance is truly bliss, then why do so many Americans need Prozac?
- Dave McGowan
Recent Comments
Technology marches on. Bye-bye Iphone. I wonder what the next 'revolution' in personal communication will be? Implants? Electrically responsive...
---
"...they (governments) would explicitly inform their citizenry of methods of propagandizing groups for the purpose of inoculating them against the...
---
It is really disheartening to see some of the largest and influential corporations failing to carry over the business strategies developed in the...
---
Why is no one saying the obvious?... A talking head (or, in this case, two of them) pointing out an alleged propagandist is not the same as a...
---
"...a handful of voices in the mainstream media dictate what "should" matter..." This is Not new. Media consolidation has been going on for...